"OMGIMADETHISJELLYANDITISFANTASTICIT TASTESGREATIT'SOUTOFTHISWORLDIT TASTESJUSTLIKEMONSTERI'VEBEENEATING ITFORTHREEDAYSANDIHAVEN'TSLEPTYET OMGICANTBLINKMYEYESAAAAAHHHHH AAAAAHHHHHAAAAAAAAAHHHHHHHHHHHH!!!!!! !!!!!!!!!!!!!!!!!!!!!!!!!!!"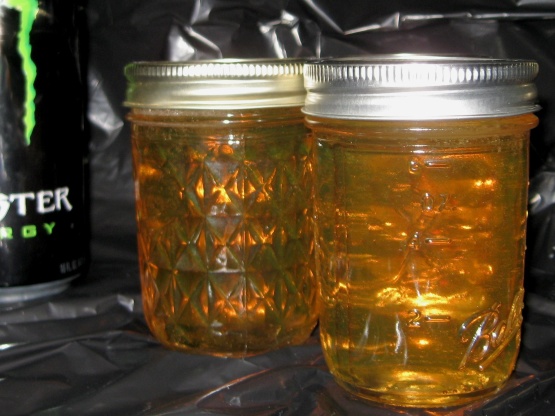 Monster Energy Drink Jelly..
2 recipe photos
453.59

g can monster energy drink

709.77

ml sugar

85.04

g packet liquid pectin
Directions
Pour drink into pan and bring to boil until reduced to 12 ounces liquid.
Add sugar and stir until dissolved. Bring to a boil.
Stir in pectin and let boil while stirring for half a minute.
Pour into jars and seal for five minutes in boiling water canner.