"Ready, Set, Cook! Special Edition Contest Entry: This recipe takes us back home to Barcelona, Spain. On a recent visit we went to a tapas restaurant and this is our creation mixing two famous catalan tapas. Tortilla de patatas (potato and onion omelette) and Escalivada (roasted peppers and eggplant) and in a bed of pan con tomate (crunchy bread with fresh grated tomato, salt and extra virgin olive oil)."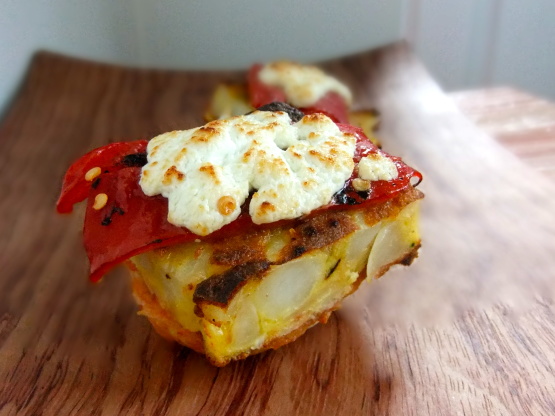 Montadito De Tortilla De Patatas - Potato Omelette Open-Faced Sa
3 recipe photos
Directions
In a large skillet, sauté potatoes and green onions in 3 ½ tablespoons of olive oil. Add 2 teaspoons of salt. Cook until potatoes are tender and just start to brown , about 15-20 minutes. Set aside and let cool slightly.
In a large bowl, beat eggs with a pinch of salt. Add potatoes and mix well.
Return the skillet to the heat and add 2 tablespoons of olive oil.
Pour the egg / potato mixture and cook on one side, at medium-low heat, until the bottom starts to brown.
Place a large plate or a lid on the skillet. Remove from heat and flip the skillet quickly, to turn the omelet around. Slowly slide the uncooked side onto the skillet and return to heat. (Note: Be very careful not to burn yourself while doing this. We recommend using oven mitts or a towel. However, if you do not feel comfortable flipping the omelet this way, place the skillet in the oven and bake at 350F until set. Make sure you use an oven proof skillet!).
Cook until set, pricking the top of the omelet with a fork, to allow it to cook evenly and a little bit faster. Set aside and let cool slightly.
In the mean time, slice the ciabatta rolls in half and toast lightly.
Grate the tomato in a bowl discarding the skin.
Drizzle the remaining olive oil on the each half of the ciabatta rolls and spread the grated tomato on top, and season with salt to taste.
Cut the potato omelette into 4 squares to fit on top of the roll. Place a square of potato omelet on each half, top with 2 strips of roasted red pepper and 1 tablespoon of goat cheese.
Place in the broiler for approximately 4-5 minutes or until the cheese melts slightly and has a golden brown color.