"When we used to go to a Moroccan restaurant in San Jose, Ca. this was my favorite course of the multi-course meal. The original version of this recipe was on Food Network. I tried to simplify the steps so it would easier for today's cooks...but the spirit of the original recipe remains the same. It is a little work to put together...but if you make it, you won't be disappointed and will wish you had made a larger dish of it. Cooking time reflects both range and oven cooking times combined. Posted for ZWT #6--2010"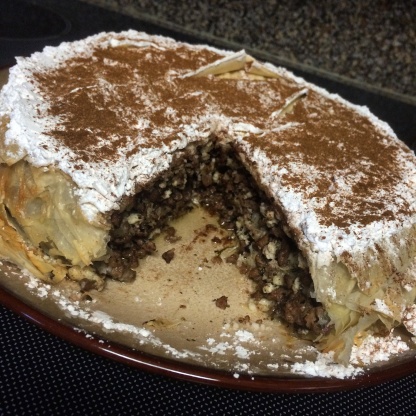 Moroccan B'stella
4 recipe photos
Directions
Heat olive oil in pan, then add onions, chicken pieces, parsley, cilantro, black pepper, saffron, ginger, cinnamon, nutmeg, clove, and salt.
Stir well and add the 2 cups of water.
Cover with a lid and cook for 20 minutes.
Remove the chicken from pan and set aside.
Allow the sauce to cool slightly then add the beaten eggs to the sauce in the pan.
Cook the eggs with the sauce stirring continually so eggs won't stick.
When eggs are cooked, remove the pan from the heat and drain the eggs well in a colander.
Set he eggs aside to cool.
Open the phyllo and cover with a damp towel so it will not dry out.
Take an 8-10 inch round baking pan/dish and cover generously with butter.
Very gently, spread 5 sheets of phyllo dough alternately criss-cross over the pan, leaving some phyllo dough draped around the edges of the pan.
Add another sheet of phyllo crunched in the middle of the pan.
Mix together the 1/2 teaspoon cinnamon & 1/2 teaspoon sugar in a small bowl.
Pour some of the cinnamon sugar all around the phyllo.
Then, add 1/2 of the roasted crushed almonds.
Cover with 3 more layers of phyllo and pour on 1/2 of the eggs with half of the chicken.
Cover again with 3 layers of phyllo and sprinkle with the remaining cinnamon sugar and almonds.
Cover with 3 layers of phyllo and pour on the rest of the eggs and the chicken.
Cover with 2 layers of crunched phyllo and close the draping edges very gently like a rose, without pushing, it needs to be very fluffy.
Pour the melted butter over the phyllo and bake in a preheated 350 degree oven for about 10 to 15 minutes, until golden brown.
Turn the pan upside down onto a large platter. Mix together remaining cinnamon and sugar.
Garnish with powdered sugar and make a design with the mixture of cinnamon and sugar if desired.
Serve hot.