"Better than lamb moussaka. We're not vegan but I love this recipe! By far the tastiest vegan meal I have ever eaten that typically uses meat and lots of dairy. I've pulled ideas from several vegan websites and regular recipes for moussaka to make this one. I hope you enjoy it as much as I do. If you do the vegan version, be sure to allow at least 2 additional days to prep the fake "feta". The pic I've shown is using all the vegan options."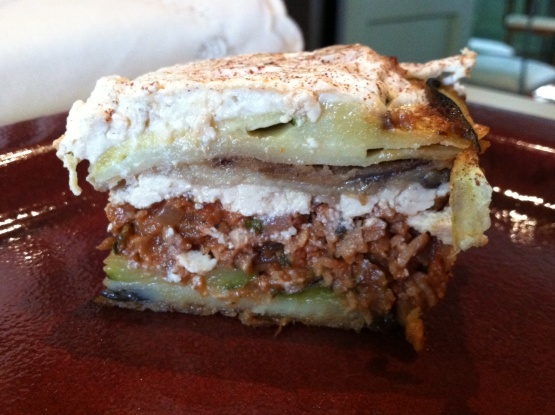 Moussaka (Vegan or Vegetarian, You Choose.)
1 recipe photo
READY IN:

2hrs 30mins

SERVES:

6-8

UNITS:

US
1

lb firm tofu, drained
1 1⁄2 cups water, to cook tofu
1⁄2 cup light miso

3

tablespoons white wine vinegar

2

teaspoons salt

2 -3

medium eggplants, peeled and sliced (1/4-inch slices)

1

cup flour
salt, for sweating eggplant

oil, for frying eggplant

2

medium zucchini, thinly sliced

2

medium potatoes, peeled and very thinly sliced

1

onion, chopped

1

teaspoon olive oil

2

garlic cloves, minced

1

tablespoon white wine vinegar

8

ounces tomato sauce
1 1⁄3

cups dry textured vegetable protein (TVP)

1 1⁄2

cups boiling water for hydrating the textured vegetable protein

1

teaspoon Worcestershire sauce

1

tablespoon oregano, chopped

2

tablespoons parsley, chopped

1

teaspoon salt, divided (or to taste, I use seasoned salt)

3

tablespoons canola oil (or other vegetable oil, or dairy butter)

3

tablespoons flour

2

cups coconut milk, oat, hemp (drinking variety) or 2 cups soymilk (dairy milk will also work)
1⁄4 cup Egg Beaters egg substitute (completely optional)
1⁄2 teaspoon salt
1⁄8 teaspoon cinnamon
Directions
Making fake feta: Cube tofu into 1" cubes.
Submerge in boiling water & simmer for about 5 minutes. Drain.
Whisk together water, miso, vinegar & salt. Add tofu to marinade. Stir gently and refrigerate. Marinate for at least 2 days - up to 1 week. Shake the container periodically.
Before using, remove marinade from tofu & crumble tofu with fingers. Use within 2 weeks after it's been crumbled. Side note; my 2 year old actually likes this all by itself!
From this point it should take about 3 hours:.
"Sweat" your eggplant slices in a single layer on towels by sprinkling generously with salt (kosher or regular) for 45 min - 1 hour, blotting every 15 min or so, flip after 30 min and salt other side. Rinse after eggplant has begun looking brown in color. then squeeze with hands to remove as much water as possible, finishing with a squeeze from some paper towels. Small batches of squeezing is necessary. Dip dried off eggplant slices in flour to lightly coat both sides. Fry in 1/4" oil until edges are lightly browned on one side + 2 minutes on the flip side. Drain on towel or on cooling rack.
While eggplant is sweating, preheat oven to 350. Line a baking sheet w/ parchment paper. Spread potatoes evenly and bake for 30 minutes.
Also, while eggplant is sweating, for the "meat" sauce:.
Add boiling water to the TVP. Add in the worcestershire sauce and gently stir. In a pan, saute onion in 1 tsp oil until tender. Add garlic, continue to cook for 1-2 minutes over med low heat. Add TVP, vinegar, tomato sauce, oregano, parsley, salt, pepper and cinnamon. Stir.
To assemble: Preheat oven to 400 degrees.
Grease or oil an 8x8 or 9x9 baking dish that's at least 2" tall.
Cover the bottom with 1/2 of the eggplant, then 1/2 of the potatoes, then 1/2 of the zucchini (uncooked), then all the meat mixture and 1/2 of the fake feta.
Finish by layering the rest of the eggplant, potatoes, zucchini and "feta". Bake for 1 hour.
While it's baking, prepare the bechamel sauce which you will add to the moussaka and continue to cook until an hour is up:.
Melt the oil or butter, whisk continuously as you add the flour, then slowly add the milk. Keep at it until it begins to thicken which will happen all of a sudden. When this happens, turn off the heat and add 1/4 C egg beater (optional) and the salt. Whisk again just to mix.
At this point it might be 20-30 minutes into cooking. Take out the moussaka and pour the bechamel sauce evenly to coat. Try to fill in any large gaps. If you have extra, just pour it on the middle, it should spread a little while cooking. Sprinkle lightly with cinnamon. Back into the oven it goes to complete the total of 1 hour cook time. Be sure the bechamel has a little bit of browning before taking it out just for looks.
Let sit for 20 minutes before serving.
If you want to make ahead, prepare dish and just don't make the bechamel sauce until you're ready to stick it in the oven. Same with freezing. No bechamel sauce for the freezer.