"This recipe is from my favorite celebrity baker, Nick Malgieri! I had the privilege to meet him, and taste his baked goods that he prepared for us, at a baking class in Chapel Hill NC NICKS NOTES: The recipe is deceptively simple—the whole success of these scones lies in not handling the dough too much so that it doesn't toughen. Mix them with a light hand, and they will be excellent.. He is excellent, and so is his baking! This is a famous Scottish scone recipe, which I have adapted from The Scots Kitchen by F. Marian McNeill (Blackie and Son, 1929-1955). Mrs. Macnab was a farm wife at Ballater, not far from Balmoral, the summer residence of the British royal family. During her lifetime in the late nineteenth century, many of the dignitaries visiting Balmoral, including King Frederick of Prussia, came to tea at Mrs. Macnab's farmhouse because of the excellence of her scones. Now we can all enjoy them! SERVING: Serve the scones warm from the oven, but not red-hot, with butter or whipped cream and preserves or marmalade. STORAGE: Keep the leftovers in a plastic bag in the refrigerator or freezer and warm them up in the oven or toaster oven before eating. (Leftover scones are not fit for guests, however.) This actually makes 4 cakes of 4 scones each, or 16 individual scones"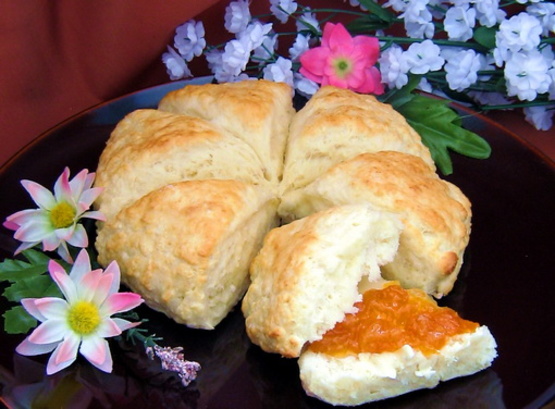 Mrs. Macnab's Scones
1 recipe photo
Directions
Line 2 small cookie sheets or jelly roll pans lined with parchment or foil.
Set racks in the upper and lower thirds of the oven and preheat to 425.
Stir together the flour, sugar, and baking powder in a large bowl. Rub in the butter finely, using your hands or a pastry blender.
Use a fork to beat together the egg and buttermilk. Add them to the flour mixture. Use the fork to gently mix in the liquid, scraping up from the bottom of the bowl, with a movement similar to the one used to fold in egg whites. Continue until all the dry ingredients are evenly moistened.
Scrape the dough out onto a floured surface, and gently fold it over on itself 2 or 3 times.
Cut the dough into 4 pieces and press each piece into a 5" disk. Place the disks on the prepared pans, 2 disks to a pan. Use a knife or bench scraper to cut each disk into quarters, but don't separate the quarters.
Bake the scones until they are well risen and deep golden, about 12-15 minutes.
Leave the scones on the pans to cool for a few minutes.