"This recipe is from a neighbor that I used to love to visit when I was a child. She lived to be over 100 years old and was still baking just as active at the end of her life as she had been for years. She would let me help her in the kitchen and I think she fostered part of my love of baking."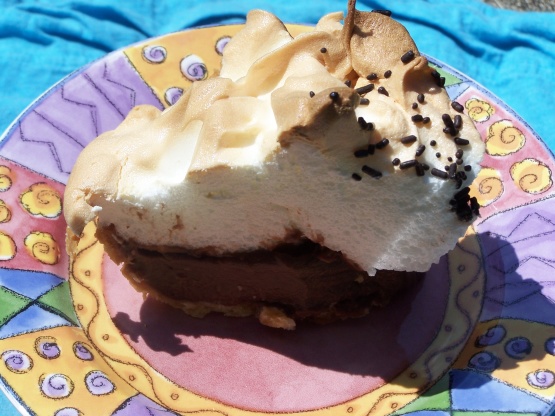 Ms. Winnie's Chocolate Pie
6 recipe photos
Directions
Mix dry ingredients well.
Add 3 egg YOLKS and 1 egg WHITE to dry mixture, RESERVING the other 2 egg WHITES for the meringue.
Add butter and mix well.
Slowly stir in milk and water.
Over medium heat, cook this mixture until thickened, STIRRING CONSTANTLY.
Once mixture has thickened, add vanilla extract and bring to room temperature.
Once mixture has cooled, pour into baked pie shell.
In a separate bowl, beat the two egg WHITES until soft peaks form.
Slowly add 6-7 tablespoons of sugar and continue beating until meringue is stiff, not dry.
Top pie with meringue and baked at 350 degrees for approximately 10 minutes until meringue is lightly browned.
Refrigerate before serving and refrigerate any leftovers.