"This is one of my favourite Christmas cake recipes & is usually the one I end up making. It is a make-ahead cake which gets better for maturing a while. It's very fruity & has a delectable mulled wine taste to it - the nuts make it a very special cake too. I don't usually marzipan or ice this cake, although I have done when under pressure from my family - who want a "Traditional Cake with all the little Father Christmas figures & Robins on top!!!" It is nice with a fruit and nut glazed topping - as well as just being served plain with a festive frill around it! I will post more photos when I have decided how I am going to decorate it this year!"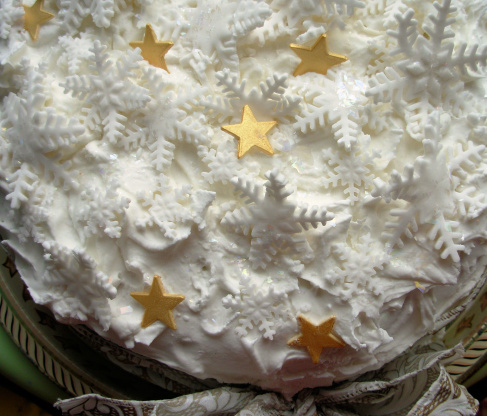 Mulled Wine Fruit and Nut Christmas Cake: Make-Ahead Fruitcake
9 recipe photos
Directions
TWO DAYS BEFORE YOU BAKE:.
Gently heat up the port with the strips of orange peel & all the mulled wine spices tied up in a muslin or cloth bag; you will need a large roomy saucepan as you will be adding the fruit to it later.
Bring it to the boil and then take off the heat and allow to cool slightly.
Add all the fruit, prunes, peel & nuts to the mulled wine port mixture, stir it well and cover with a lid.
Leave at room temperature, unless you live in a very hot climate in which case you will need to refrigerate it, for 2 days. I have left this for up to 4 days with no adverse effects!
THE DAY YOU BAKE THE CAKE:.
Pre-heat oven to 160 C or 320°F.
Grease and double line with bakng paper/parchment a loose bottom deep cake tin; I used a 8" diameter round tin with high sides.
Wrap the outside of the cake tin with a double layer of brown paper or baking paper/parchment & tie with string - it stops the cake browning too quickly or too much and IS worth the effort!
Beat the butter and sugar together until light & fluffy.
Add the flour bit by bit with the beaten eggs gradually - mix well in between each flour & egg addition. This stops it curdling.
Drain the fruit & nuts - any excess port can be kept for future soakings! Discard the mulled wine bag & the strips of orange peel.
Add the fruit and nuts to the cake mixture & mix well.
Add the spices along with the grated peel of one orange and mix well with a wooden spoon.
Spoon the the cake mixture into the prepared tin and level the top.
Make a slight dip in the middle to allow for rising unevenly.
Bake for 30 minutes and then turn the oven down to 150 C or 300 F and bake for a further 1 1/2 to 1 3/4 hours or until an inserted skewer comes out clean.
Leave the cake to cool in the tin.
Remove from the tin and keep stored in an airtight container - well wrapped in the baking paper/parchment until Christmas.
Decorate it with traditional marzipan & icing or a fruit and nut glaze - OR just remove from the paper, decorate with a frill and serve it from an attractive cake platter!
In Yorkshire where I come from, we would eat a slice of Christmas cake with a slice of Wensleydale Cheese!