"got this from discussfitness.com. What i like about this is that it has no white flour so its pretty healthy, dense yet soft texture. I only use 2 c water, and around approx 4 1/4 c whole wheat flour"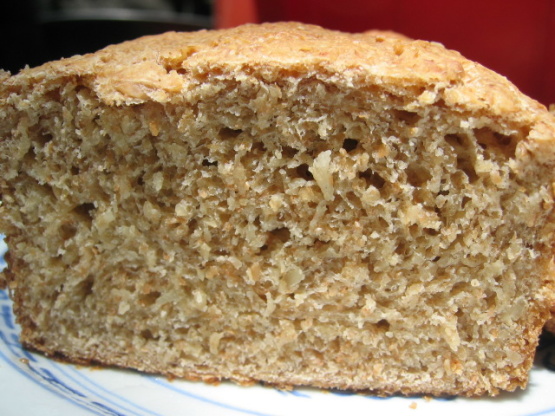 Multigrain Whole Wheat Bread
5 recipe photos
Directions
Combine 1 1/2 c ww, 1 1/2 c oats, 1/3 c gluten flour,oil, honey.
Pour water, mix well.
Add yeast, salt, mix, 1 1/2 c oats.
Stir in 3 - 3 1/2 c of whole wheat. Stop adding when cleans sides of bowl.
Knead well. Divide into 2 loaves. Place in greased pan cover with towel. Rise til dbl 45- 60min.
Bake 350º 30min.
NOTE: For wheat germ, wheat bran, nuts. May sub any of the following as long as 1 c total: GNC soy baking mix, Flax seed, Wheat Germ, Oat bran, Bulgar Wheat, Sunflower seed.