"I'm posting this to share decorating ideas.Mine are far from decorating perfection but oh, so fun to make and eat. Decorating like this takes time - You are warned - but well worth the effort! You can make it much simpler by only make one or two designs. These were a huge hit at our work Halloween party and kids love them! Use your favorite cake and frosting recipes, your frosting must be soft enough to squeeze through a cone and tip but firm enought to hold it's shape. My frosting was a basic buttercream with a little egg white added for firmness - egg white powder will work too. The bright blue frosting lost some of it's shape due to mixing powdered food coloring with extra milk to avoid grainyness, this is one reason I suggest using gel or paste food color. I went throught the bulk candy section at the grocery store and picked out the items I thought most condusive to monsters and such - the assorted licorice candies are fabulous and slice up easily; sour strips make great tounges : ) , and I loved the yellow Runts for making horns and fangs! I had mini baking M&M 's on hand; they were a good size for eyes, but regular ones could work too. I was looking for the skinny string licorice but couldn't find any - it would be a nice additon as is edible glitter - Wilton makes it and you can find it at JoAnne's or Michael's, or where ever you buy your cake decorating supplies For frosting Decorating Tips - I used open star #18, plain round #7, a #68 leaf tip, Atteco 47 or 45 for the mummy, and a Wilton or Marpol 233/ Atteco 133 for the grass and some of the monsters . You may have similar tips but slightly different sizes. I make my own parchment cones, unless you do a lot of decorating and make your own to save money, it's much easier to buy the nice plastic bag cones. I always use couplers so I can change tips but you could make seperate cones for each tip. The Mummy and Worm Cupcakes are the easiest and take the least amount of time to make. The spiders are the messiest and most time consuming. If I were to do this assortment again I would prep for the decorating ahead of time - slicing licorice candies for eyes, cutting sour tounges, dipping the spiders etc., and bake the cupcakes the day before. Doing everthing at once took hours."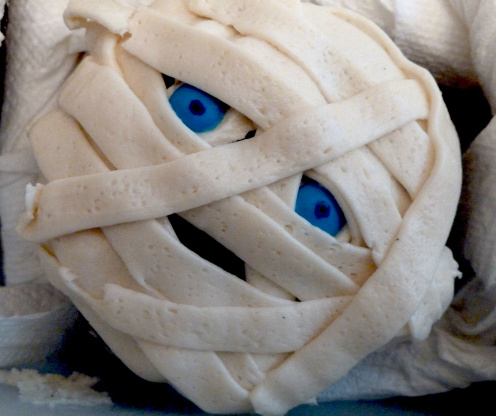 Mummys, and Monsters and Spiders, Oh My! Cupcakes
16 recipe photos
24

cupcakes, baked

4

cups buttercream frosting (The frosting amout is approximate always be prepared to make more, See note below)

food coloring, gel type prefered
Directions
Seperate your frosting, and color as desired, place a damp paper towel over your bowls of frosting, this keeps a crust from forming which can clog your decorating tips.
MONSTER CUPCAKES - let your imagination run wild!
Runts.
Licorice Candy.
Sour Strips.
Assorted Colored frosting Frosting.
For fur/ skin fill a cone with frosting and tip of choice for the type of fur you want (see intro for #'s) - I used : green monster - star tip , white monster - round tip , teal blue - leaf tip , bright blue - grass tip . For the white fangs on the green monster I used the round tip squeezed a little frosting then pulled away to make the fang.
Top with candies for eyes, tounges, fangs etc.
WORMS CUPCAKES.
Gummy Worms.
Chocolate wafer cookies.
Frost the cupcake ( I added cocoa to my butter cream just for these to start with a brown base). Crush a couple of Oreos, or other cookies without the cream, for the dirt, insert the worms, then added grass around the edges (Tip # 233) and a couple of flowers. I found it hard to get some of worms in whole, so cut them down before inserting. Another fun addition is to create tombstones or ghosts with vanilla finger cookies.
MUMMY CUPCAKES.
Use a touch of frosting to put your mini M & M eyes in place.
Use Tip 47 (ridges down) to create bands of white frosting for the mummy wraps, overlap and curve them a bit - mummy's aren't flat or symetrical. Leave a tiny gap for a smile. Once frosted I used a dot of black gel food color for the pupils on the eyes.
SPIDER CUPCAKES.
Chow Mein Noodles.
Chocolate, Melted with a little shortening.
Mini M & M's.
Black gel, melted chocolate or black food coloring (for the spider's web.
Black edible glitter.
Dip small clusters of the noodles in chocolate - a fork helps, place on waxed paper, dip individual legs and poke into the cluster; add red m&m eyes. Make ahead and let them completely firm - you may need to pop them into the fridge. Make extras in case of breakage.
Frost the cupcakes white, then to create the web, using black gel frosting from the store, or a small cone with melted chocolate (I dipped a tooth pick into my black gel food coloring) starting from the center make three thin concentric circles on top of the cupcake; take a thin knife or tooth pick and starting from the center to the outer edge drag throught the circles spacing the drags aobut 1/3" - 1/2" apart. (You could also use chocolate icing and pipe with white glaze) . Sprinkle black edible glitter around the edges. Top the web with your chocolate chow mein spider. If any legs fall off, a little dab of melted chocolate will glue them back into place.
NOTE:.
A little egg white or egg white powder added to your frosting can give it a little extra firmness to hold piped shapes better.