"I had seen a similar recipe to this & made a few adjustments to suit our family. I usually make this soup on the stove, but have used a slow cooker for it. We prefer it done on the stove. Adjust the garlic to your own preference, I tend to go on the light side as it can easily overpower the flavours in the soup. I use pot barley, but pearl barley is fine. Use any type of mushrooms you like. Don't leave out the dill weed or the soy sauce, they are an important part of the seasoning in this soup. Serve it with a nice fresh soft or crusty roll or loaf of bread. This will serve 4 as a main course, or about 8 people as a starter."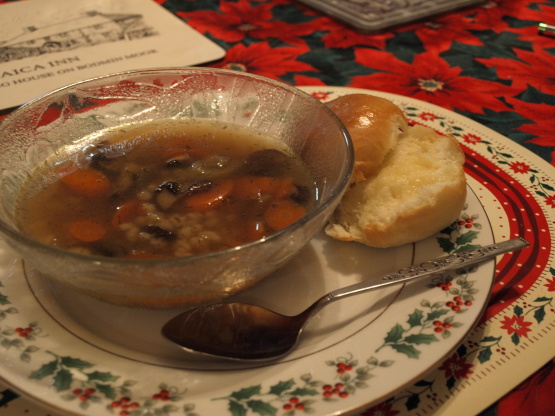 Mushroom & Barley Soup
3 recipe photos
Directions
Saute mushrooms, celery & garlic in butter for about 3 minutes.
Combine broth, sauted veg, soy sauce & barley in a large pot.
Bring to a boil, reduce heat, cover & simmer for 20 minutes.
Add carrots & dill weed, simmer 15 minutes longer.
Season with salt & pepper to taste.