"This wonderful icing is used for icing cakes and cookies as well as for borders and art work on cakes. It makes a delicious filling also between the layers of cakes and under Fondant Icing. You can make roses but it takes 3 or more days to dry them depending on the humidity. There are many versions of "Buttercream" icing. Some are made with eggs and all butter. Some varieties, you have to cook your sugar to a softball stage. Others are 100% shortening or a combination of shortening and butter. Each decorator has his or her favorite. I personally think that the best taste and textured recipe is the one that has you cook your sugar, add to whipped eggs and use pounds of butter per batch. BUT…. I live in a state that can easily be a 100 degrees for days on end during the summer and you know what butter does on hot days. It melts! A greasy puddle of melted icing on a cake plate is not something I want to look at or eat. Your top notch decorators have a few options we don't. They have huge refrigerators to store their cakes in, and refrigerated vehicles that they can use to deliver decorated cakes. I even know a few that refuse to deliver at all. If you want their cake, you come and get it and it's your responsibility if it melts. These decorators don't even turn on their ovens for a wedding cake for less than $2000. The following recipes for Buttercream Icing hold up pretty well in the heat and humidity, but if you know that your cake will be out in very high temperatures, then don't use any butter and use only a high quality shortening. Shortening: Solid Shortenings definitely have their place in baking. So I'm going to talk taste tests. Crisco is the hands down winner. It has a clean taste with the melting point of 106 degrees. Butter melts somewhere between 88 and 98 degrees F. depending on the amount of fat in the brand. You can see that if you need to serve a pure buttercream decorated cake, on a hot August afternoon, you could have melted roses (and I do mean greasy puddles) on the tablecloth. This is when a good quality shortening will be a great blessing. I have been told by decorator friends that some of the warehouse brand shortenings leave a grainy consistency to the icing no matter what you do. Powdered (Confectioner's) Sugar: Regarding Powdered Sugar. Please use a Cane Sugar. I prefer C&H Powdered (confectioners) Sugar. Many of the cheaper brands use sugar beets for their base. I don't know the chemistry behind it but you definitely get different textures to your icing that can vary from batch to batch. I spent a few months being very frustrated with the quality of my icing until a kind lady did a bit of trouble shooting for me. She recommended the cane sugar and I've been blessing her ever since. Top-Quality Brands: Please be safe, buy a quality brands and then stick with it for the best results. A friend of mine, who is a wonderful cook and baker, travels a lot and she often prepares treats for her hosts. She's learned to ask the host to have her favorite shortening and flour on hand. She has even made up a little makeup type case that carries her favorite extracts and precious spices. That way she knows what she is working with, how it handles, and what tastes she can expect for the finished product. Some surprises are NOT pleasant. Storing Buttercream Icing: If you are not going to be using the icing right away, place it in a clean, sealable bowl. Store it in the refrigerator but please don't place it next to the marinating salmon, garlic or broccoli. You do NOT want those flavors in your icing! I like to use my icing within a few days but it will hold in the cold refrigerator for a couple of weeks if necessary. I often make a double batch of icing the night before I have a baking project. That way I know that I have plenty of icing, it's fresh and I don't have to make it while I'm in the middle of baking the cakes. The extra can always be used for a batch of cupcakes. When you remove the icing from the refrigerator, you might notice that the icing has taken on a sponge like texture. Do yourself a favor and place the icing in a bowl and mix by hand using a back and forth, smashing motion with a spoon or icing spatula. What you want to do is to smash the bubbles out of the icing. This extra step will help to give you the smoothest icing for a pretty top and sides of the cake. I have found that you will get an even better texture of icing if it is at room temperature before you try to do your icing. Bad Buttercream Icing Days: One thing that seems very silly but is true. There are Bad Buttercream Days! I've asked quite a few decorators about this and every one says "Yes, there are lousy days". I'm not sure what causes the problem. It could be that every human has bad days so they blame the buttercream. It may be the humidity or that there is a low pressure system hanging over your town. I just know why but it is a perceived fact. The way I have handled the problem is that I changed the decoration on the cake. I couldn't get the smooth top or sides as I originally planned. Writing a greeting on a messy top would look awful so I changed the design idea and put flowers everywhere. I could have also done a basket weave technique around the sides. Just go with the flow, and don't get frustrated. Aunt Martha won't chuck the cake at you if you don't write her name on the top this time. Remember that you are creating something that is to be eaten so have fun with it. Different Mixers: If you have a heavy duty counter mixer, you can prepare a whole batch at one time. If you are using a hand mixer, divide the recipe in half. If you notice the mixer getting hot, please stop and let the machine cool off. I also prefer to mix the buttercream on a low setting. It seems that the higher setting do the job faster but you also will get a spongy texture to the icing. I don't want that quality in my final ice coating or flowers on the cake. Using Weight Scales: 1 cup of Crisco weighs 6 ounces. I put a piece of wax paper on my scale and start plopping spoons of shortening on until I get the desired weight. It really saves on the cleanup. Recipe from Peggy at WhatsCookingAmerica.net"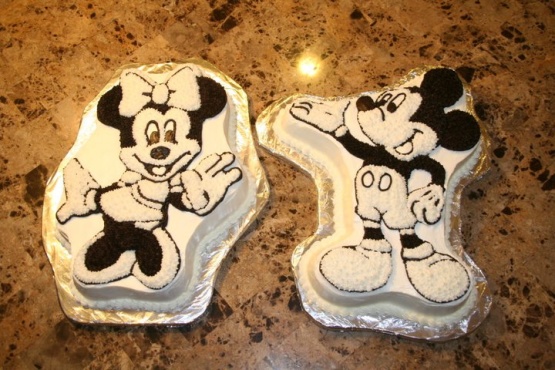 My Favorite Buttercream Icing for Decorating
3 recipe photos
1

cup butter, room temperature

2

cups Crisco shortening

1

teaspoon butter flavoring (Wilton's makes the best flavored version)

1

teaspoon pure vanilla extract (I use Wilton's Clear Vanilla)
1⁄2

teaspoon almond extract

2

lbs confectioners' sugar, pure cane
1⁄2 teaspoon salt

1

tablespoon meringue powder (optional but the texture will be smoother)

water, as necessary (I usually add about 2 tablespoons but you may need more or less depending on the humidity in your ne)
Directions
* You can purchase meringue powder at your local grocery store under the brand name of Just Whites.
In the mixer, mix butter, Crisco shortening, and salt together to incorporate, about 5 minutes on low.
Add almond, butter and vanilla extracts. Mix together well. Add about 1 pound of powdered sugar and the meringue powder and mix.
Add 1/2 cup of powdered sugar at a time and mix until you get the consistency you want.
Add a little milk, a teaspoon at a time, if necessary to thin the frosting. Blend well on low for several minutes.
Use immediately or cover and refrigerate. NOTE: Buttercream Icing will last for weeks as long as it is well sealed.
This icing is used for icing cakes and cookies as well as for borders and art work on cakes. It also makes a good tasting filling between layers of the cake and under a Fondant Icing.
You can make roses, but the drying time is 3 or more days depending on the humidity.