"When I was a kid, this was the cake that my Mom made for every potluck in my Dad's office. I remember seeing this glistening can on the cut crystal plate when Dad would go off to work and I wished that there were leftovers for me. As an adult, I make this cake for special occasions. My husband and I had a two day wedding celebration and this is the cake I gave to the restaurant to serve for dessert after the first dinner."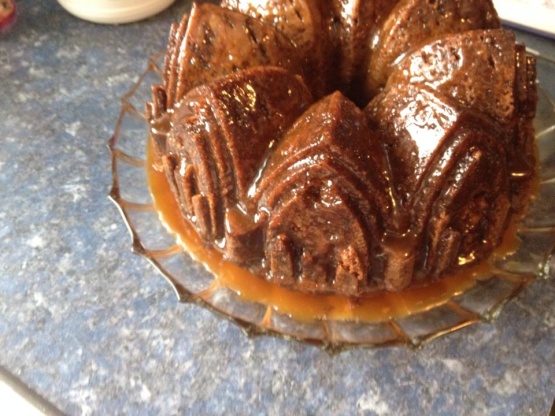 My Mom's Apple Cake
1 recipe photo
READY IN:

2hrs 15mins

SERVES:

10

UNITS:

US
Directions
Preheat oven to 325°. Well grease a baking pan. I double this recipe and use a bundt pan and grease it with shortening since it has a higher melting point. Then flour the pan.
Get your buttermilk caramel sauce ingredients ready so the caramel is ready to be poured over the cake after you let it cool for 15 min after baking. If you're doubling the cake recipe to use a larger pan, be sure to double the buttermilk caramel sauce recipe.
Into a very large saucepan with high sides add your buttermilk sauce ingredients. The mixture will foam a lot before it becomes caramel and cleaning this off your stove is a pain in the foot! Trust me, I'm speaking from experience. It's easier to clean a gigantic pot than the stove top.
Sift together flour, baking soda, and cinnamon in a small bowl.
Combine sugar, eggs, oil, vanilla extract, and OJ in a large bowl. Beat until well blended.
Stir in flour mixture into the wet mixture and mix well.
Fold in walnuts and apples.
Spoon into prepared pan.
Bake on 325° for 90 min or until the top springs back when pressed. If using more than 2 cups of apples bake longer. Right before you're ready to take the cake out of the oven, put your caramel sauce on to cook on medium-low on the stove.
Remove cake and cool in pan for 15 minute.
While cake is cooling for the 15 min, turn on your burner under the pot where you already prepared your buttermilk caramel sauce ingredients. Turn the burner on medium low. You're about to be in for a work-out.
Continuously stir the ingredients as they melt and foam and come together into a really loose sauce. You don't want this to thicken a great deal. It should NOT resemble caramel like you put on ice cream. It should be more of the consistency of pancake batter. It will take approximately 15 minute See what we did there? The cake cools for 15 min while the caramel cooks!
Poor your buttermilk caramel sauce over the cake. Poke some holes in the cake with a meat fork to help the caramel sauce get down into the cake. If you cooked the caramel too long it won't go down into the cake. It will just sit on top of the cake. Then you have to start over! But you can still eat the ruined cake over the sink. The calories don't count that way. Don't worry, we won't tell anyone.
get the genius kitchen app.
Watch on your iPhone, iPad, Apple TV, Roku, or Fire TV.
Learn More