"My mom makes these every Christmas and sometimes for other holidays. They're soft and moist! Cook and prep time are approximate and don't account for chill time."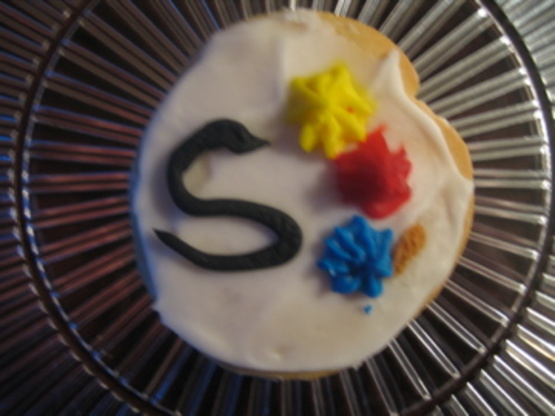 My Mom's Cut out Cookies
2 recipe photos
Directions
Allow butter to soften (not melt!) at room temperature. In a large bowl, cream butter and sugar.
Add egg, vanilla, cream of tartar and baking soda.
Add flour alternately with milk.
Cover with plastic wrap and chill for at least an hour in the refrigerator. (I usually chill it overnight.).
Preheat oven to 350°F.
Roll out with plenty of flour to keep from sticking, but try to avoid incorporating too much flour into the dough since it will make the cookies less moist.
Cut out into circles or with your choice of cookie cutters. Carefully transfer cookies to an ungreased cookie sheet.
Bake on a cookie sheet in the oven until they become a light gold color. Watch them carefully so that they don't get overdone.
Allow to cook completely before icing.
For icing, put a couple of tablespoons of not-quite-boiling water into a large bowl. Add the confectioners' sugar and mix together, adding more water as you need to form a thick paste. Color, as desired.
Spread about 1 tablespoon of icing on each cookie. Decorate with colored sugar and sprinkles as desired.