"**NOTE: Omit chicken and chicken broth and replace with vegetable broth and tofu or more mushrooms for a yummy full flavored vegetarian dish! This is an awesome recipe that I made up, it has bold, sweet and spicy full flavors. If you love Thai food there is no doubt in my mind that you will LOVE this. Plan on spending some time doing it though, I think I was in the kitchen for 2 1/2-3 hours before we actually ate but I love cooking and taking my time. I'm sure it could be shortened, but its nice to have the time as it allows the flavors to meld so nicely. It will be hard for me to estimate the prep and cook times because with this you are cooking and prepping at the same time. I don't measure anything so I will be guessing on some of the quantities but just remember that you can reduce or add some ingredients as you see fit based on your tastes. You should be able to find all of these ingredients at a larger type regular grocery store in the Asian section. I did not have to specifically go to an Asian market for any of my ingredients."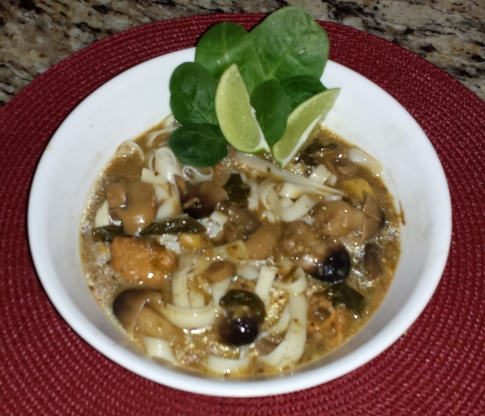 My Thai Chicken Coconut Pasta Dish
1 recipe photo
READY IN:

2hrs

SERVES:

6-8

UNITS:

US
Directions
In food processor mince sweet onion, shallots, garlic cloves, ginger (1/3 minced, slice other 2/3 in 1/8th inch slices and set aside), peel and mince first two inches of lemongrass stalk, don't forget to cut base stem off first, cut the remaining lemongrass in large chunks, poke holes in it with a knife to release flavor while cooking (these will be fished out before serving), chop green chilies (pre-roasted & peeled or allow extra time for doing this process if you're familiar with how to do it, if not see instructions at the bottom of the page on "how to") and jalapenos (de-seeded), I would do just two for now unless you know you love spicy then go ahead and use 3, reserve one jalapeño for the end should you choose to serve it as a fresh garnish atop the pasta/soup. Zest 2-3 limes; set aside limes to juice later, the remaining lime will be used for garnish when serving.
Melt butter in a Dutch oven (large pot) be sure to not burn it, adding a few drops of oil to it will prevent this. Add all of the minced and chopped veggies to the butter including the zest of 2 limes (do not add the chunks of lemongrass and the sliced part of the ginger; reserve for later). Sauté all the veggies for a bit of time, the longer you do it the more the flavors meld, don't burn them however. Clean and cut chicken breasts in chunks or strips, bite sized or a bit larger, whatever you prefer. Once veggies are sufficiently sautéed then add your chicken breasts and sauté/simmer until the chicken is cooked and flavors have melded.
Now add the chicken broth to the pan, add lemongrass chunks, ginger slices, brown sugar, sweet soy glaze, as well as cayenne, salt and pepper both to taste. (Again, I don't measure anything so it's hard for me to put an exact measurement on these so if you are unsure err on the less side and add more later if desired.) Add fish sauce and soy sauce, stir frequently and let simmer for a good while, depending on how much time you have, I simmered it for probably 30-40 minutes but you would not have to do it that long.
Shake cans of coconut milk and add both to the cooking soup, do not let it boil, I didn't even really simmer mine once I put the coconut milk in, I kept it just a bit on the lower side of a simmer just to continue melding flavors basically heating through. I probably let heat this way for maybe 20-30mins but again, could be less if time is an issue. Taste your soup. If you would like your soup sweeter add more soy glaze or brown sugar, if you want it spicier, add more cayenne or hot green chilies or slice fresh jalapenos for garnish when serving. Stir soup frequently while heating.
After adding coconut milk to soup boil a large pan of water for the noodles and cook them al-dente or just under done which is what I did because once served with the hot soup it will cook them a tad bit. Rinse in cold water to stop cooking and set aside. I used the Asian wide Lo Mein noodles (dry not precooked noodles, I suppose if you wanted to speed things up, you could use precooked noodles from the Asian section. Also if you prefer, you could use any type of Asian noodles that you like, there are many choices and you could play around with different types.
After the noodles are cooked and the soup has heated through and melded flavors, use a slotted spoon and dip all through the soup and pull out the chunks of lemongrass and ginger slices, these are very strong and stalky and you don't really want to be eating your soup and bite into one of those. Now add the can of straw mushrooms and the can of regular mushrooms. Wash your baby spinach and basil and add that to your soup, it will wilt pretty quickly then you will be ready to serve. If you want to garnish with basil as well, then you need to save out a few leaves for that. Maybe continue heating another 5-10 minutes so that the greens and mushrooms heat through. Taste your soup one last time to insure you have the proper sweet/spicy balance as well as your salt and pepper.
To serve add cooked noodles to soup bowls and ladle soup over the noodles add your lime wedges and any other garnish choice(s) and enjoy!
Nice garnishes: Fresh lime wedges, fresh sliced jalapenos, fresh basil leaves, fresh cilantro, fresh baby spinach leaves, dried or fresh red hot Asian chili peppers, sliced fresh Serrano chilies, Siracha (spicy hot sauce), red bell pepper for color or any other item you would love to try!
*Note: you could serve over jasmine rice if you prefer that to the noodles, you could also add other things if you like such as bok choy, little corns, fresh bean sprouts or any other Asian inspired thing that you like.
Note: If you want to roast your own green chili, you need to pick nice sized pablano peppers, I put 2 in but you could definitely use more or less if desired. Pick ones that are as smooth as possible as opposed to very crunched up, you will be looking for an even roast so if it has lots of nooks and crannies then it'll be harder to get the roast in those places. You want to roast on your BBQ, if that is not available you can do it in a gas stove. You want to roast until the peel is black but not burnt all the way through to the inside. Once roasted, cover with a towel for 5 minutes then peel the skin off, it should come off easily after roasting. Also, deseed the chili too unless you like to keep the seeds in your dishes.
Good Luck! Have fun and enjoy your dinner! ? Don't forget to let me know what you think!
get the genius kitchen app.
Watch on your iPhone, iPad, Apple TV, Roku, or Fire TV.
Learn More