"Adapted from Saveur, this terrine is always a winner. Pre-sliced when served (for the ease of others), and garnished with the luscious gelee that forms, this terrine makes an elegant and impressive presentation, especially with cornichon, a couple of French mustards, and picholine olives. You also want to have sliced baguette available. The Saveur recipe (from Aussie Chef Philip Johnson) uses Macadamia nuts, and those oils are splendid. But being a Francophile, I prefer hazelnuts or pistachios. Then again French terrines (or at least the recipes I have run across) are often much more complicated than this. The very few steps involved in preparing this might sound daunting but are really quite simple. I am not able to bone a chicken as quickly as Julia could have, but the process is not complicated."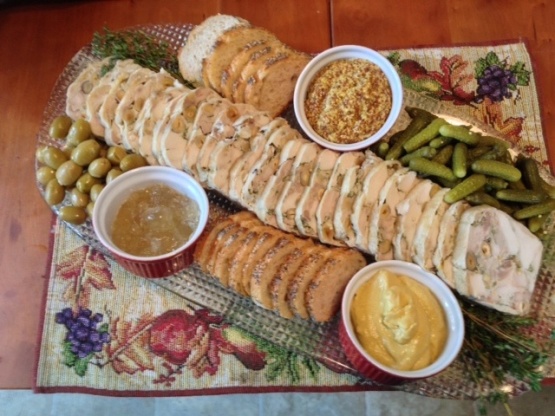 My Very Favorite Chicken Terrine
1 recipe photo
READY IN:

3hrs

SERVES:

25

UNITS:

US
Directions
Rinse whole chickens inside and out under cold water and blot dry. Remove wing tips and save for another use.
With breast side down, using kitchen shears, cut skin down length of backbone. Keeping in one piece, being careful to avoid tearing it, remove skin from each chicken and set aside.
Bone the chickens, cutting into 1/2 inch dice and place in a large mixing bowl. (An experienced chef can do this in less than an hour, but I cannot. You might want to save the bones for making stock).
Roast hazelnuts in medium oven (350 degrees F) for about 10 minutes. Remove from oven and wrap in a kitchen towel. While still warm, rub them together in the towel to remove the dark outer skin. Do not be concerned if not all the dark husks come off. If you are using pistachio nuts, this step can be omitted.
Meanwhile place garlic cloves and Half & Half in a small saucepan and bring to a gentle boil. Simmer until garlic is tender, about 1/2 hour. Allow to cool then mash into paste. Since the Half & Half gets absorbed by the garlic, there is no need to strain it out. (You might be thinking that two heads of garlic is too much, but this step gives the garlic a beautifully mild flavor).
Once hazelnuts and garlic paste have cooled, combine together with the basil chiffonade, thyme, lemon zest, salt and pepper. Then mix with the diced chicken, making sure that all ingredients are thoroughly combined.
Spray a 6-cup terrine pan with cooking spray. Line terrine pan with reserved skins from chickens (outer side of skin against side of pan), draping it over the sides.
Pack chicken mixture inside the skin-lined terrine pan, folding the skin over the top of the mixture, wrapping completely.
Cover terrine either with its lid or wrap tightly in foil. Bake at 350 in a water bath until the internal temperature of the terrine reaches 160 degrees F., about an hour. (For the water bath, place terrine pan inside a large deep roasting pan and fill with enough boiling water to reach about half way up the sides of the terrine pan).
Remove terrine from baking dish and pour off the water. Remove the foil (or lid) and place terrine back in roasting pan. Cut a piece of cardboard to fit over the terrine. Cover with plastic wrap or foil, then weight down with several heavy cans. Allow to chill in fridge overnight, while beautiful gelee forms and spills over into the pan.
When ready to serve, slide a small spatula around the edges to loosen the terrine from the pan. Then unmold onto platter. Use a serrated knife for slicing. Garnish with the luscious aspic that forms and thyme sprigs.
get the genius kitchen app.
Watch on your iPhone, iPad, Apple TV, Roku, or Fire TV.
Learn More