"My friend Debbie Yakobian's son Nadav is in the Israeli army. He brought home this recipe and Debbie has started making it every Friday for the Sabbath. My family and I have been fans of this challah and today I finally got the recipe. My challahs are cooling now but we just couldn't resist and had a taste -- delicious! In spite of the fact that there are no eggs in the dough itself, the challahs are very rich tasting. Just think of what they can do for your French toast or bread pudding!"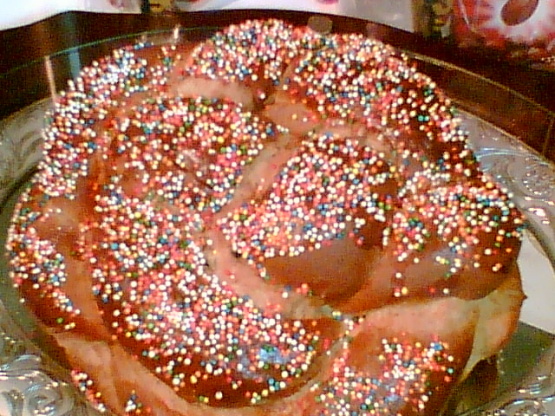 Nadav's Delicious Challah
3 recipe photos
Directions
Place all the ingredients (except for the egg and the sesame seeds) in a bowl and knead until a good smooth dough has been achieved.
You can either do this by hand or in a counter-top mixer with a dough hook.
Place the dough in a bowl and let rise for one hour.
During this one hour, punch down and knead the dough every 15 minutes.
Divide the dough into the amount of loaves you want, then divide each piece into 3 and start braiding.
Place the braids on a baking sheet covered with parchment paper.
Brush with egg and sprinkle with sesame seeds.
Let rise for another 1/2 an hour.
In the meantime, preheat the oven to 150 degrees C (300 degrees F).
Bake the braids for 1/2 an hours.
The dough is almost idiot-proof.
It comes out smooth and gorgeous and the challahs are amazing.
Very addictive.