"Mom made this for all the occasions, Thanksgiving, Easter, Christmas, sometimes birthday's if we begged loud enough. My baba taught her, so it is traditional, but it is different than the other's posted here. A little sweet, a little lemony. We had it as a side during the big meal (a pallet cleanser), but it is good for breakfast with fruit, light lunch with seafood, and excellent with a sauce."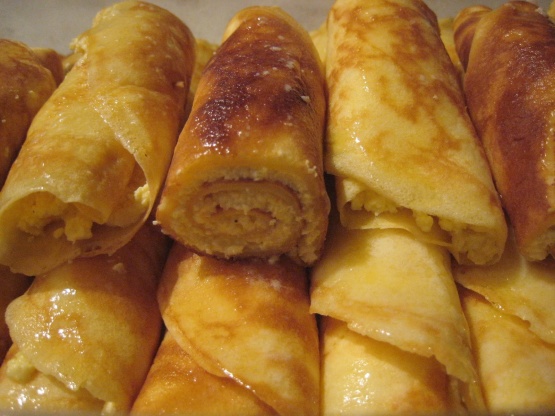 Nalysnyky (Lynn's Blintz)
2 recipe photos
Directions
Sift the first four ingredients together and make a well in it.
Beat the egg with the milk, water and lemon zest. Add this to the dry ingredients and stir well. The mixture will be lumpy.
Butter a small fry pan (or crepe pan if you have one) and using a small gravy ladel (equal to about 2 tablespoons) to portion the batter, pour out about a small crepe. Swirl the pan to thin the crepe out and make about a 6" diameter.
Fry over medium heat until the top of the crepe dries out and there is a slight color on the bottom side. Flip the crepe as you would a pancake.
As the crepes cook, stack them on a plate and cover them with a clean towel so as to keep them from drying out.
Blend the filling ingredients together and mash them with the back of a spoon to ensure that the cottage cheese is smooth.
Spread the filling onto the crepe as you would when spreading a sandwich with butter (about 1 - 1 1/2 tablespoon of filling/crepe).
Roll the crepes up, cut them in 1/2 and layer them in a small buttered casserole.
Brush each layer with melted butter.
Cover and bake at 250F for 30 minutes.
My MIL added a yolk to her crepe, and used all milk as the liquid. She also finely chopped onion and dill into the filling. She served this with a rich mushroom sauce. Yum! and completely different again!
get the genius kitchen app.
Watch on your iPhone, iPad, Apple TV, Roku, or Fire TV.
Learn More