"Given to me by a friend when my daughter got pneumonia, this is potent and works very well, so I had better pass it forward! A little info(gleaned from Amazing Health): Grapefruit - high in vitamin C which strengthens the immune system. Grapefruit aids the body in eliminating poisons. The rind of the grapefruit is a natural source of quinine. Orange - high in vitamin C and A. Also contains high amounts of Potassium and a large amount of Calcium and Phosphorus. Known to decrease excess mucus from the head and nose. Useful in cases of respiratory ailments, such as bronchitis, pneumonia, and also asthma, high blood pressure and rheumatism. Lemon - contains vitamin B, C, Calcium, Iron, Potassium, and Phosphorus. Lemons are a natural antiseptic, helpful in destroying harmful bacteria in infection. Because of its vitamin C content, it acts as an immune system builder. Especially beneficial to the liver, an important organ of elimination. Lemon is also beneficial because it is alkaline forming in the body. Garlic - contains vitamin B,C, Calcium, Potassium, Phosphorus. Garlic is one of the most beneficial foods for the digestive system and has a positive effect on the lymph system, aiding in the elimination of toxic waste matter in the body. it is also a cleanser of the blood. It is a natural antibiotic and therefore very useful in strengthening the immune system. Onion - contains vitamin A, Thiamine, iron, niacin, and Calcium. Onions have antiseptic qualities. They help drain mucus from the sinus cavities and loosen phlegm. They will also help destroy worms and other parasites in the body. Recommended in cases of asthma, bronchitis, pneumonia, flu, and colds. Peppermint Oil - brings oxygen into the blood stream. It cleanses and strengthens the entire body."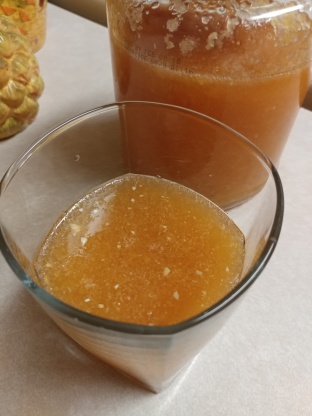 Nature's Penicillin
4 recipe photos
1

grapefruit (peeled very thinly so some of the white pith remains)

1

orange (peeled very thinly so some of the white pith remains)

2

lemons (wash thoroughly, can leave peel on)
1⁄2 large onion

3

drops peppermint oil (optional)

1⁄16-1⁄8 teaspoon cayenne pepper (if heavily congested)
Directions
Cut the fruit and onion into coarse pieces.
Place in a blender and mix well.
You may need to add a little bit of water to get the blender to mix it without clogging.
Dosage: Adults - one cup a day.
Children - 1/2 cup a day.
This amount is not to be taken all at once, but just a spoonful at a time every so often throughout the day, until the total amount desired has been consumed.
Pour remainder into glass jar and keep refrigerated. When ready to use, warm slightly in a pan before serving.