"This is a combination of 2 different recipes I found. This makes a little denser crust. It is also perfect for garlic rolls.... This is easiest to make in a mixer you mix it fairly wet. I wouldn't know how to do it in a bread machine, but I bet you could. Also, I occasionally add Parmesan Cheese, granulated garlic or Italian herbs in with the second half of the flour."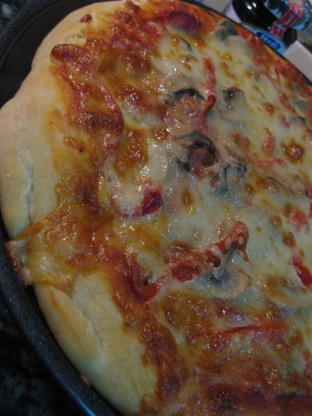 New York Style Pizza & Calzone Crust
2 recipe photos
Directions
in large bowl of mixer, dissolve the sugar in the water. (i prefer sugar in the raw, but white work just fine).
Add oil and 2C of flour.
Mix on medium, 2 minutes.
Add salt and yeast, combine.
add remaining flour.
Turn out onto lightly floured surface and knead 5 minutes.
Divide into 2 equal balls, place in oiled bowls and cover with plastic wrap.
Allow to rise for 1 1/2 hours in warm location (I have done as little as 45 minutes -no problems).
Place dough on a lightly floured surface and sprinkle flour over the top.
Working from the edges to the center, press dough into a circle (12 inches).
Add sauce and ingredients, bake in a 500 degree oven for 20-25 minutes.