"Creamy and rich and hearty and easy! For those of us with BIG families and who do NOT have easy access to fresh clams, here's the answer. Served with some home-made French bread croutons and sprinkled with grated Cheddar cheese. Do NOT boil the soup after adding the clams--this contributes to Rubber Clam Eraser Syndrome!!! Ewwwww!!!!"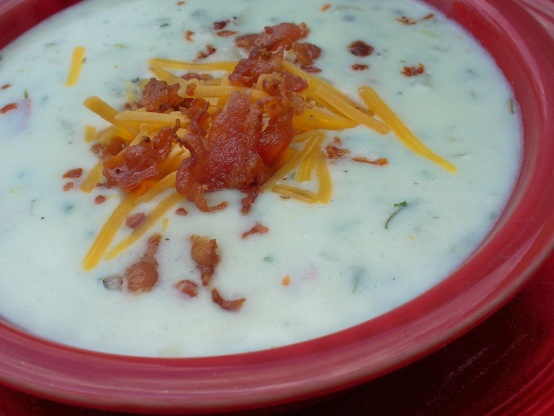 Newest New England Ham & Clam Chowder for the Family
1 recipe photo
8

slices bacon (at least, more is good too)

1

large onion, chopped

1 -2

tablespoon butter

8

large potatoes, peeled, chopped

1

green bell pepper, deseeded & chopped (or red, orange, yellow)
1⁄4 lb ham, diced (optional)

1

(46 ounce) can clam juice, divided

2

cups whipping cream, divided (half-n-half or milk)

2

tablespoons cornstarch

salt & pepper, to taste

1

pinch parsley

2

(6 ounce) cans clams, reserve juice (chopped or minced)
Directions
In a soup pot, brown the bacon; set aside when crisp.
Add chopped onion (add the butter if you don't have a lot of bacon grease--otherwise save the butter for *later*--as noted below); saute onion for 2-3 minutes, then add potatoes, saute a few more minutes.
Add green pepper to the pot, saute for about 1 minute.
Mix veggies, then add ham and about 1/3 of the clam juice (don't bother measuring, just make sure the potatoes are covered).
Simmer until the potatoes are just starting to get soft (20 minutes?).
Add another shot of clam juice and 1 1/2°C of cream (or milk); return to a low simmer.
Add remainder of clam juice from the big can and reserved from smaller cans; bring to a simmer again, stirring the pot occasionally to prevent sticking.
****If you'd like to have a more "rich" chowder, add the butter now.****.
Mix remaining cream/milk with cornstarch, add gradually to simmering pot until slightly thickened (not goopy, please).
Add salt and pepper to taste along with pinch (or two) of parsley.
Remove from heat and add the clams; stir. Allow to rest for two - three minutes.
Crumble crisp bacon over top of soup; stir.
Serve immediately along with some hearty home-made croutons (1/2 loaf of French bread, cubed & toasted) and grated Cheddar cheese.
VARIATIONS: Skip the ham and add 1-2 cups sweet corn kernels.
***NOTE*** When the store has a special on peppers, I buy a bunch, clean them up and chop into preparation-size bits, then quick-freeze them on cookie sheets (one-layer deep), then pour them into one-gallon zipper bags to store in the freezer. I keep a smaller container in my kitchen freezer for ready-access (and doesn't take up so much space).
get the genius kitchen app.
Watch on your iPhone, iPad, Apple TV, Roku, or Fire TV.
Learn More