"Only 1 WW point!!! Another quick and healthy omelette that I love to whip up in the morning when I'm rushing around to get ready for work. I just set it up and can forget about it for a few minutes. There are several varieties of this that I make, it just depends on what I have on hand. It is NOT a savory or rich omelette, but a healthy dish that is a real favourite of mine. Enjoy!"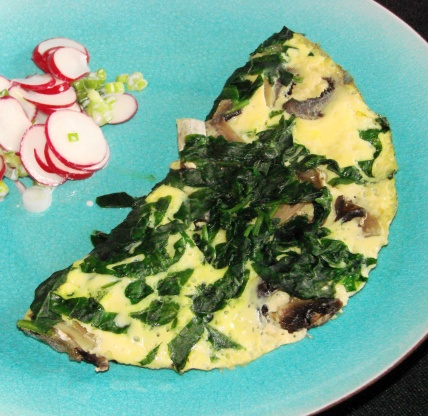 Nif's 1 Ww Pt. Light, Low Fat Mushroom Spinach Omelette (Omelet)
3 recipe photos
nonstick cooking spray

1⁄2 cup mushroom, thinly sliced

3

egg whites (I measure 6 tablespoons because I always have a carton of egg whites in the fridge)

1⁄2 cup fresh spinach, lightly chopped

salt & freshly ground black pepper
Directions
Spray 6" or 8" good quality nonstick pan with spray. Heat over low-medium heat, no hotter. Add mushrooms to pan, spreading evenly in pan. Slowly pour egg whites over mushrooms and then sprinkle with spinach. Cover with lid.
Let sit for about 10 minutes. Occasionally check to see when egg whites are no longer runny on top of the omelette.
When set, tip omelette onto plate while folding in half. Sprinkle with salt and pepper to taste.