"You'll think that you are being spoiled in a nice restaurant with this recipe. This was a Sandi Richards recipe that I changed just a little. Enjoy!"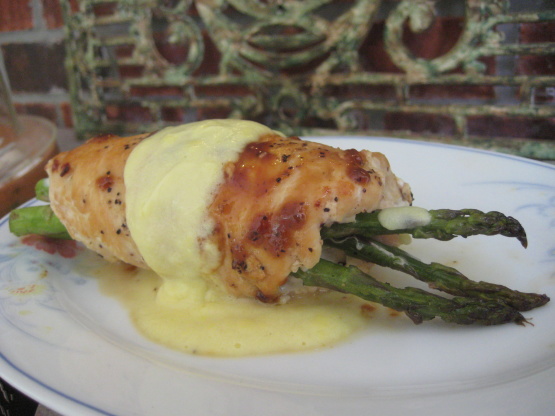 Nif's Asparagus Stuffed Chicken Breast With Hollandaise Sauce
1 recipe photo
Directions
Asparagus Stuffed Chicken: Smear 1/2 teaspoon garlic on rough side of each chicken breast.
Lay 3 spears of asparagus on top of garlic, roll the breast around the asparagus and secure with toothpicks.
Heat oil in a large flat frying pan at medium-high heat. Brown all sides of the rolled chicken.
Add wine and chicken broth to pan after all the breasts have browned. Let simmer at medium heat, turning once, until liquid evaporates. Remove toothpicks!
Hollandaise: Beat egg yolks with a whisk in a small stove top pot (no heat yet). Add lemon juice, dry mustard and Tabasco to yolks. Whisk together to combine.
Melt butter until liquid, about 10 seconds. Very slowly drizzle the butter into egg yolks while whisking. Now place on medium-low heat.
Slowly whisk in milk until smooth. Heat through while whisking. Remove from heat. Add a little more milk if you want it thinner.
Serve chicken with Hollandaise sauce drizzled over top.