"*NOTE:Recipe has been updated and fixed since the first review.** Like lots of people I had been seeing the commercial for Olive Garden's new dish, the Lasagna Rollatini with Fontina cheese sauce and wanted to try it soo bad. For those that haven't, a rolled up lasagna noodle stuffed with four cheeses and spinach, oven backed with a white cheese sauce with tomatoes and spinach. But like most times, i just haven't had time to go and try it. So after doing a lot of searching through ideas, I came up with my own Copycat version. My husband doesn't even want to try it now, saying it wouldn't have anything on this recipe! But he can be a little biases. :-) Let me know. Also, this makes a lot so can easily be halved, especially if you want to have some breaded chicken with it. This makes A LOT!"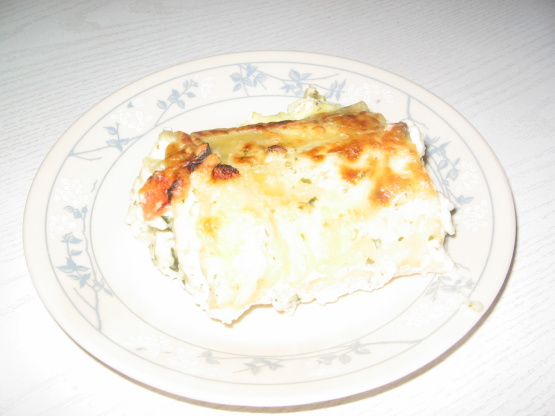 Nikki's Lasagna Rollatini
2 recipe photos
1

large head garlic, roasted

Lasagna Rolls

1

lb lasagna noodle

1

(15 ounce) container ricotta cheese (whole or reduced fat)

1

(10 ounce) box frozen spinach, defrosted, minus 3 tbs for sauce
1 1⁄2

cups parmesan four cheese blend (with Parmesan, Asiago, Fontina, Romano)

2

eggs, beaten

1

tablespoon parsley, to taste

1

tablespoon oregano, to taste

salt and pepper

Sauce

1

tablespoon olive oil

1

tablespoon flour

16

ounces heavy cream or 16 ounces half-and-half

1

cup dry white wine (Sauvignon Blanc, Pinot Grigio, Pinot Gris, Pinot Blanc, Semillon or Chardonnay are all fine. Use wha) or 1 cup white wine vinaigrette (Sauvignon Blanc, Pinot Grigio, Pinot Gris, Pinot Blanc, Semillon or Chardonnay are all fine. Use wha)
1⁄2

cup grated parmesan four cheese blend (to taste)

1

roma tomato, diced small

3

tablespoons spinach (set aside from pasta)

1

tablespoon parsley

salt and pepper
Directions
Preheat oven to 350°F.
Roast garlic. (Just cut the top off so all the cloves are showing, drizzle with olive oil, wrap in aluminum foil and pop in the oven for 30 minutes at 350°F).
Cook pasta according to package directions, just under fully cooked or nearly to the al dente point (until flexible enough to roll them up without breaking); drain very well.
Combine the rest of the lasagna roll ingredients until combined in a large bowl.
Lay out a noodle on a clean, dry surface.
Place a layer of cheese mixture down the noodle, making sure not to over stuff.
Roll up and place in a 9x13 baking dish lightly sprayed with cooking spray (Pam), seam down; repeat with the remaining noodles.
Set to the side.
Sauce: In a saute pan, heat olive oil over medium low heat.
Squeeze out roasted garlic paste and let it cook for about 1 minute.
Add butter.
Once melted, mix in flour, making a roux, cooking for about 1 minute.
Whisk in white wine, cooking for about 1-2 minutes, letting the alcohol cook out.
Add in heavy cream, letting it absorb the flavors for about a minute.
Then add the cheese, stirring until melted.
Add spinach, stirring until incorporated in sauce, and lastly the tomatoes.
Season with salt and pepper and add parsley.
Let simmer for about 5 minutes.
Pour over lasagna rolls, cover and bake in preheated oven for 30-35 minutes or until pasta is fully cooked and heated throughout and sauce is bubbling.
Serve and enjoy!