"i love the recipe, because it's one of my own creation. i have tweaked it multiple times to get the most fluffy delectable cookies possible! i luff them. with all my heart. :) and so do others. that's the best part! oh, and unlike other recipes where you have to do things in order, this one can just be thrown together...and voi-la! you have zee cookies of heaven at your fingertips!"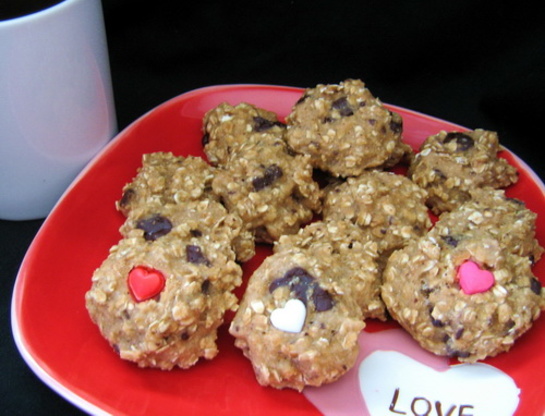 No-Fat Oatmeal Choco. Chip Cookies! With Style.
1 recipe photo
Directions
pre-heat oven to 350 degrees. throw everything but the choco. chips and oatmeal into a bowl and mix it to your hearts desire.
THEN add the choco chips and oatmeal.
drop by spoonfuls (whatever size suits your fancy at the time) onto baking sheet, and pop in the oven for approximately 12 minutes.
take 'em out and eat them gone! with ravenous delight. :).