"This is one of my most favorite recipes. It has very few ingredients but turns out very well. When you take it out of the oven you can hear the crust crackling-very nice! Hope you like it as much as we do. (If you want to use whole wheat you can add only a half a cup to this recipe -more than that will make the bread dense) Also if you only have active dry yeast- double the yeast amount to 1/2 tsp. Note* since it is a no-knead recipe it is a pretty flat loaf with a max. height of about 5-7 inches."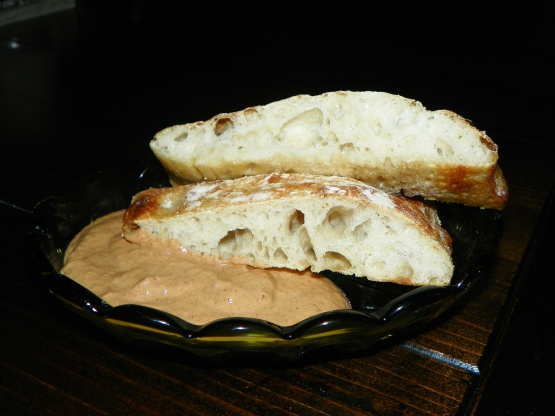 No-Knead Ciabatta
4 recipe photos
Directions
Mix the water, yeast, and salt together in a large bowl.
Add flour one cup at a time.
Stir until all the flour is pretty much absorbed.
Cover with a kitchen towel and set aside for 18 hours or overnight.
In the morning uncover the dough and slightly pat it down with a rubber spatula to deflate it.
Sprinkle cornmeal onto a baking sheet.
With a rubber spatula scrape the wet dough out onto the pan, don't worry if it looks a little messy, straighten it out a little with floured hands.
Set pan aside uncovered for 2 hours to rise (don't expect it to rise much).
Preheat oven to 425F an hour before the bread will be done rising.
Note:If you like you can sprinkle flour over the top of the risen dough right before you put it in the oven, this will give it the nice crackly floured look when it is done.
Bake bread for 20-30 minutes. It will be done when the crust has a deep golden color. Enjoy!