"Update: This bread is not suitable for sandwiches, it's perfect for those that like the crust of an artisian bread, and because of the wet dough besure to place in a bowl or pan to help shape the loaf. After Mark Bittman's feature in the New York Times (November 8, 2006) on Jim Lahey's no-knead bread, I started the search for a sourdough method. I think Breadtopia has the best. The use of parchment paper or proofing baskets makes it very simple. See
Almost No-Knead Bread 2.0
. I've found it best to proof the starter in the morning (8-10 hours), then make the sponge in the evening, allowing it to sit out overnight (15 - 18 hours) and then baking it the next day. Cooking time indicated does not include proofing time needed. NOTE: Even though it's recommended to use a La Cloche or a 6-8 quart dutch oven I've been baking my boule in a 4 qt. cast aluminum dutch oven."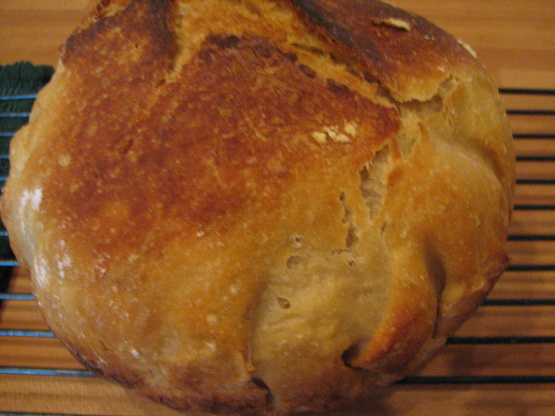 No-Knead Sourdough Bread
1 recipe photo
Directions
Mix together the dry ingredients in large non-metalic bowl.
In measuring cup mix together water and sourdough starter.
Mix in liquid until the flour is incorporated. The consistency should be firm and shaggy.
Cover with plastic and let sit on the counter for 16-18 hours at room temperature, about 70°F (Note: At 70-75 degrees the bread leavens well and has the distinct sourness and flavor of sourdough. At more than 75 degrees the dough becomes too acidic which inhibits the wild yeast and leavens poorly. At much less than 70 degrees the dough leavens well but has a mild flavor. ).
With plastic scraper remove dough from bowl and gently place on floured surface.
Gently flatten dough into rectangle and fold the ends inward (like a letter).
Fold the sides inward and form a dough ball.
Place dough, seam side down, on parchment paper bowl or frying pan (helps to hold shape and cover loosely with a towel and allow to rise until doubled in size, about 1 1/2 hours.
If using proofing basket,spray the basket with non-stick oil and dust with flour or wheat brand and place dough directly in the basket.
Cover with towel and let rise about 1 1/2 hours.
Dough is ready when it will not readily spring back when poked with a finger.
Thirty minutes before baking, place cast-iron Dutch Oven or La Cloche (with lids) in oven and preheat to 500 degrees.
With serrated knife place slits in top of loaf.
Remove pot or La Cloche from oven and carefully lift dough with parchment from bowl and transfer to La Cloche or Dutch Oven.
Shake pan once or twice if dough is unevenly distributed; it will straighten out as it bakes.
Replace lid and return to oven.
Turn oven to 475 degrees and bake for 30 minutes.
Remove cover; reduce heat to 450 degrees and bake an additional 15-20 minutes or until golden brown; interior temperature should be 200 degrees and the bottom sounds hollow when thumped.
Remove from pan and cool completely on rack before cutting.
get the genius kitchen app.
Watch on your iPhone, iPad, Apple TV, Roku, or Fire TV.
Learn More