"We love perogies! I thought why not create my own version. I took these to a Christmas Party and they won rave reviews and I also took home an empty 9 x 13 -- not a CRUMB to be found!"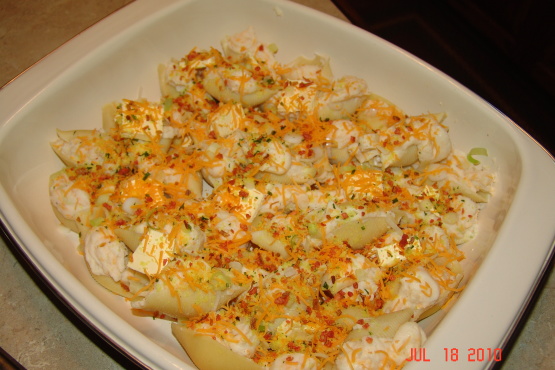 Not Your Ordinary Stuffed Shells
1 recipe photo
Directions
Boil and drain pasta shells.
Mix mashed potatoes, garlic salt, onion salt, dried minced onions and 4oz. of cheese.
(You may use cold or heated mashed potatoes-I prefer heated).
Using a small melon scoop, gourmet decorator or an Easy Accent decorator or even a small spoon, fill the shells with the potato mixture.
Place stuffed shells in a greased 9x13 pan.
Top shells with remaining cheese, green onions and potato topping, (I place 3 very small dabs of butter on top of the cheese before baking so they wont dry out).
Bake at 350°F for 30-45 minutes or until ready.