"There's a Nutter Butter marathon going on at my house this fall. The inspiration for this recipe was the Crafty Kitchen. It's a project that's geared toward preschool kids. So....I felt if a 5 year old could make these, I should be able to also! http://www.craftbuds.com/crafty-kitchen-turkey-cookies/"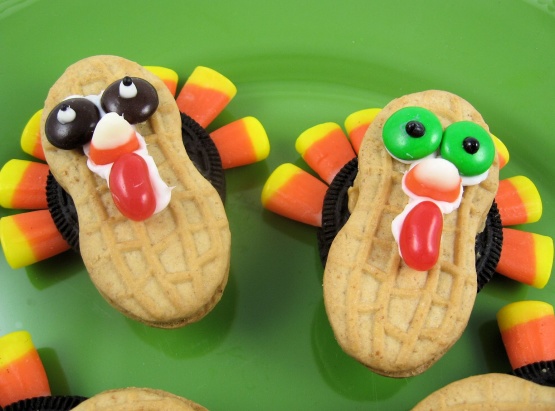 Nutter Butter Turkeys
10 recipe photos
8

Nutter Butter sandwich cookies

8

Oreo Double Stuff cookies

4

ounces candy corn

16

M&M's

8

small red jelly beans
1⁄2

cup white frosting

black decorating gel (in a tube)

white decorating icing (in a tube)
Directions
Create the tail feathers: Push 7 candy corns into the sides of the double-stuff oreos.
Add the turkey body. Add frosting to a plastic bag. Snip a small piece from the corner. Pipe or spoon a dab of white frosting onto the center of the Oreo. Press a Nutter Butter cookie on top of the Oreo cookie. I had some leftover melted peanut butter chips and used that instead of frosting in this step.
Add the face: Cut 8 candy corns in half for the noses. Pipe or dab a fat "T" onto the upper area of the Nutter Butter cookie. Press two M&M eyes into the frosting. Next add the candy corn nose, then add a red jelly bean (lengthwise) below the nose.
Eye detail: (Option 1) Using a tube of black decorating gel, pipe a dot on each eye. You can then follow up with a tiny dot of white icing if you want extra detail, using a toothpick. (Option 2) Switch the colors and pipe a dot of white frosting onto the brown eyes, then add a tiny dot of black gel with a toothpick.