"A fried egg is a an whole egg fried with minimal accompagnement. Omelet or fried eggs are referred to as (transliterated French "Oeufs au plat") is a dish made ​​from chicken eggs by the method of frying pan quickly through oil or butter, fried egg with a liquid which is in between whites (runny), other than the egg wall drag ("Omelette") is rated up to egg whites and yoke and whites together and then pour into the frying pan. Omelet are easy to make, very simple and easy to follow. Omelet served with bread and milk as a common breakfast or may be eaten at other times of the day in many homes around the world as well in most of fast foods stores."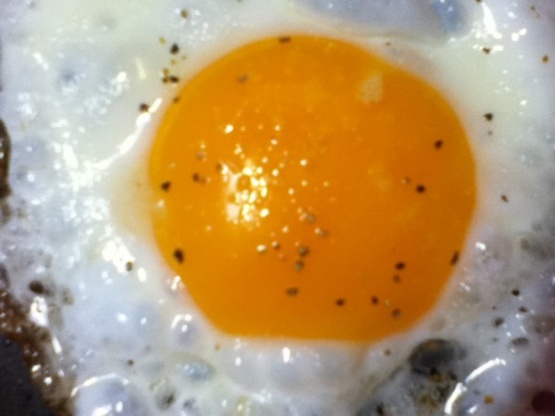 Oeufs Au Plat
2 recipe photos
Directions
First you place the frying pan on the stove, medium- high temperature, add a tablespoon of butter in the skillet, rub the frying pan with the butter.
When the butter has melted, gently break the eggs into the frying pan without breaking the yolk. Then cover the skillet in about 30 second, take the cover away and then continue with medium-low temperature, wait about 1 to 2 minutes until the white have coagulated and turned opaque and then sprinkle over the surface of the egg a little salt and ground black pepper (pureed).
When the eggs are ready, you can take it out, put in the disk, you also can placed on the hot surface of the egg a thin slice of cheese, (optional), set up a branch of coriander on the eggs to decorate, serve with lettuce, white bread, milk, chicken sausage and bacon or shrimp ( option). In my family, I often served with white bread, chicken sausage, ham, bacon, shrimp, french fries, vegetables salad, milk --
Tips and Suggestions: Request for immediate consumption when it is hot.
Alerts: Wash all the eggs before cook, use paper towels to dry them before crack. Do not eat more than seven eggs per week. Absolute need to limit egg for diabetics.
get the genius kitchen app.
Watch on your iPhone, iPad, Apple TV, Roku, or Fire TV.
Learn More