"This cake is very rich and not for fat conscience people. It's wonderful to serve with your favorite home made ice cream. I make this only as a once in awhile special dessert. I copied this recipe from a newspaper a very long time ago and found it in the newspaper again just the other day! Guess time has only made this cake better. You want to make sure you don't over bake as the cake is intended to be very moist and fudgy."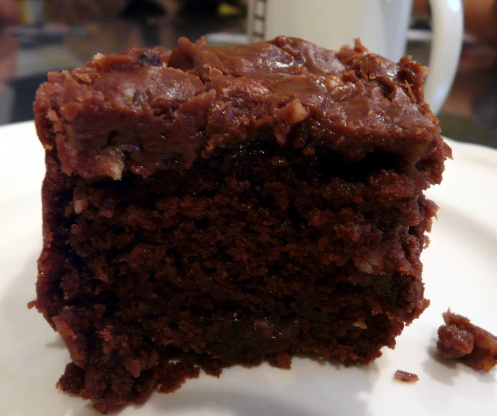 Old Fashion Sheet Cake
2 recipe photos
Directions
Preheat oven 350 degrees.
Prepare 13x9" cake pan by coating with a thin film of butter and dusting with cocoa powder.
sift flour and sugar together in large bowl.
Melt butter with 1 cup of boiling water and cocoa, just until butter is melted Pour over flour/sugar mixture and add beaten eggs, baking soda, buttermilk and salt.
Stir until well mixed. Use mixer to beat eggs only,,,mix in and mix cake well by hand
Pour into cake pan, spreading evenly and bake for 22 to 25min.
Frosting make frosting while cake bakes.
Melt butter over medium-low heat Add cocoa and milk, stirring constantly.
Pour over powdered sugar and mix well.
Add vanilla and stir until smooth Add nuts and pour over warm cake.