"This is my mother's recipe, and one thing my mother does better than anyone I know, is making pie. You can serve it w/o the meringue which is what I do as I'm not fond of it. I like variety so I like to put a cream cheese layer on the bottom sometimes and then the lemon over the top (since I don't use the meringue). This makes enough for 2-3 pies, depending on how full and tall you like them, however you can 1/2 the recipe. Also I use
Alice's Pie Crust
for the crust when I'm not being lazy (for that I use a Nilla wafer or shortbread crust)."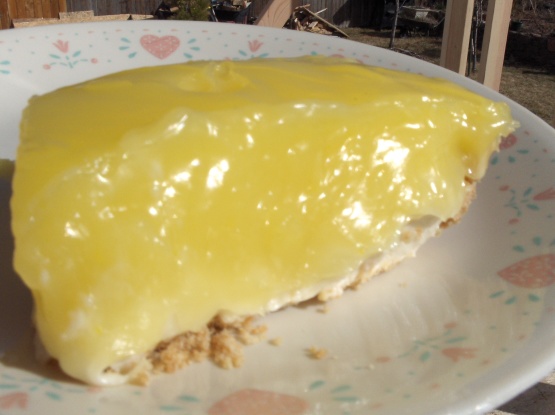 Old Fashioned Lemon Meringue Pie
1 recipe photo
Directions
Heat sugar, 4-1/2 c water, and salt to boiling.
Meanwhile, stir 1 cup water and cornstarch together.
Slowly add cornstarch mixture into boiling sugar water.
Cook till thick and clear.
Beat egg yolks and lemon juice together and slowly add to sugar mixture.
Bring this up to a bubbly stage (1-2 min).
Take off heat and add margarine, and stir.
Leave it for a minute and come back to stir again, doing this every couple of minutes to allow margarine to melt and cool filling w/o allowing a skin to form. After margarine melts put a lid on the mixture till you're ready to pour into pie crusts.
For Meringue:.
Beat salt and egg whites till frothy, then slowly add sugar.
Beat till stiff peaks form when you raise the beaters.
If you are making the meringue, add a spoonful of it to pie filling, pour filling into crusts, and then spread pie to crust edge.
Peak it using a spoon.
Bake in 325° oven till light brown on peaks.
Cooking time will vary--just watch it.