"This cake smells sooo good. The ginger and spices really give it a nice kick. I'm not a fan of ShooFly pie.. but this cake is a keeper."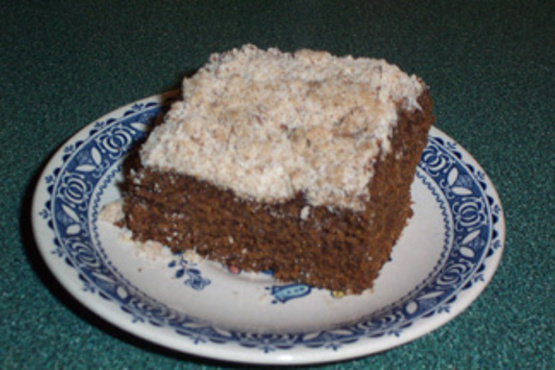 Old Fashioned ShooFly Cake
1 recipe photo
Directions
Preheat oven to 350 degrees F.
Grease and flour a 9-by-13-inch baking pan.
Mix the flour, spices, salt and sugars, then cut in the shortening and butter with a pastry blender or similar tool until the mixture is the consistency of fine crumbs.
Set aside 1 cup of the mixture.
In another bowl, pour the boiling water over the molasses and stir until dissolved.
Stir in the baking soda.
When the bubbling subsides, add to the dry ingredients and stir until smoothly blended.
Pour the batter into the prepared pan.
Give the pan a good thunk to settle contents, and drag a knife a few times through the center of the batter from the outside to the middle to help the cake rise evenly.
Sprinkle with reserved cup of crumbs.
Bake for about 50 minutes, or until a toothpick inserted into the cake comes out clean.