"A rich, decadent cake just like the cakes that my Grandma used to make. So chocolatey, that a little piece will surely satisfy your sweet tooth. Enjoy! Be sure to use only *Unsweetened* Chocolate"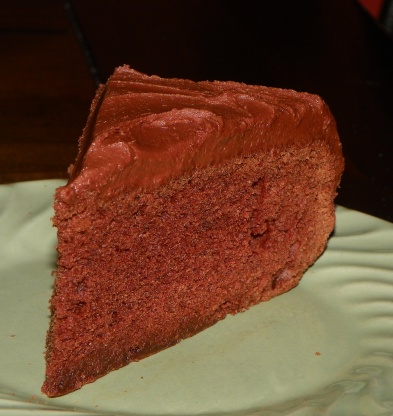 Old Fashioned Sour Cream Chocolate Fudge Cake With Icing
4 recipe photos
Directions
Preheat Oven to 350°.
CAKE:.
Butter a 9x13 cake pan with 1 tbs of butter and set aside.
Dissolve the coffee powder in the hot water and let cool.
In a medium bowl, or on a piece of waxed paper, sift together the flour, cornstarch, baking soda and salt.
In a large bowl, cream together the 8 tbs of butter and sugar until light and fluffy, about 3 minutes.
Add the sour cream and mix well.
In 3 additions, add the flour mixture alternately with the eggs, beating well after each addition.
Beat in the melted chocolate, dissolved coffee, and vanilla.
Spread the batter into the prepared pan.
Bake until a toothpick inserted in the center of the cake comes out clean, about 30-35 minutes.
Cool on a large wire rack for about 10 minutes.
Carefully run a knife around the edges of cake, invert onto rack to cool completely.
ICING:.
Beat the room temperature butter in a large bowl with an electric mixer on high speed until fluffy, about 2 minutes.
On low speed, beat in confectioner's sugar, about 1/4 cup at a time until smooth. Add the cooled chocolate and vanilla, mix well.
Slice the cake in half horizontally. Transfer the bottom, cut side up to a platter (I gently slide the top layer onto a cutting board until needed).
Spread about 1/2 of the icing over the cake, it will be a generous amount.
Top with the top half of the cake, cut side down.
Spread the remaining icing over the top and sides of cake.
Sprinkle with powdered sugar to garnish if desired.