"Since I bought an ice cream maker, I always want to try new recipes. This one looks great and I'll try it this summer with fresh strawberries. From Rachael Ray."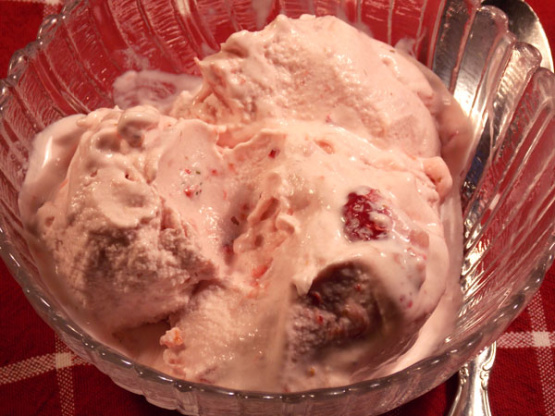 Old-Fashioned Strawberry Ice Cream
2 recipe photos
Directions
In a medium glass or strainless steel bowl, combine the strawberries and 1/4 cup sugar; mash with a fork.
Set the bowl in a larger bowl filled with ice water.
In a medium saucepan, bring the half-and-half and remaining 1/2 cup sugar to a simmer, stirring occasionally, over medium heat.
In a heatproof bowl, whisk the egg yolks; gradually whisk in about 1/2 cup of the hot cream mixture.
Pour the mixture into the saucepan and cook, whisking constantly, over medium heat until steaming hot and frothy, about 3 minutes.
Strain the custard into the bowl of strawberries.
Let stand, whisking occasionally, until cool.
Using an ice cream maker, process the cooled custard according to the manufacturer's instructions.
Transfer to an airtight container and freeze.