"From Vegetarian Times. Pan-fried flat breads are served at breakfast in India, but the crispy treats can be used for other meals as well. 192 cal; 5g prot; 8g fat; 29g carbs; 0mg chol; 148mg sod; 3g fiber; 2g sugars."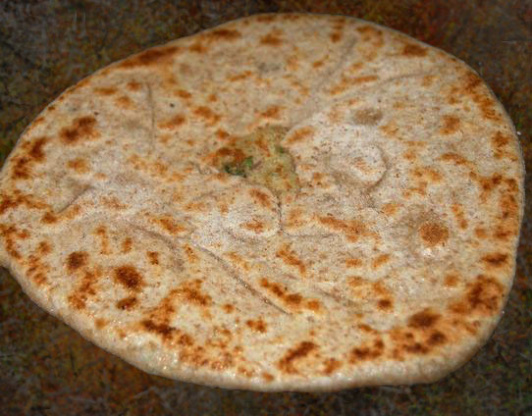 Onion-Stuffed Flat Bread
1 recipe photo
Directions
Filling: Combine all ingredients in a bowl.
Dough: Pulse flour and salt in food processor until combined.
Add 1 1/4 cups water, and process 2 minutes, or until smooth.
Cover, and let stand 10 minutes.
Roll dough into 8 balls, then dust with flour. Roll out each ball into a 3-inch circle.
Place 2 tablespoons filling in center of each circle. Join dough edges together, and crimp tightly. Dust with flour once more. Place crimped-side down and roll into 6-inch circles.
Oil iron griddle or heavy skillet, and heat over medium heat.
Cook 1 dough circle for 1 to 2 minutes, or until bottom browns and is firm. Flip, and cook 1 to 2 minutes more.
Lightly oil top of flat bread with 1/2 teaspoon oil. Turn over, and oil second side, pressing on flat bread several times to brown evenly. Repeat with remaining dough balls and oil.
Serve hot or at room temperature.