"Entered for safe-keeping. Found this recipe from Saveur on the internet, and it looks like an excellent combination for tea-time sandwiches. (Or in my case, I'll wrap 2-slice sandwiches with plastic as is commonly done in Britain, and brown-bag my lunch for work.) From wikipedia: "Watercress contains significant amounts of iron, calcium and folic acid, in addition to vitamins A and C.... Many benefits from eating watercress are claimed, such as that it acts as a mild stimulant, a source of phytochemicals and antioxidants, a diuretic, an expectorant, and a digestive aid. It also appears to have cancer-suppressing properties. It is widely believed to help defend against lung cancer. In addition, watercress is a known inhibitor of the Cytochrome P450 CYP2E1, which may result in altered drug metabolism for individuals on certain medications (ex., chlorzoxazone)." Note that watercress has a shelf life of 2-3 days. For a more British version, use cress sprouts."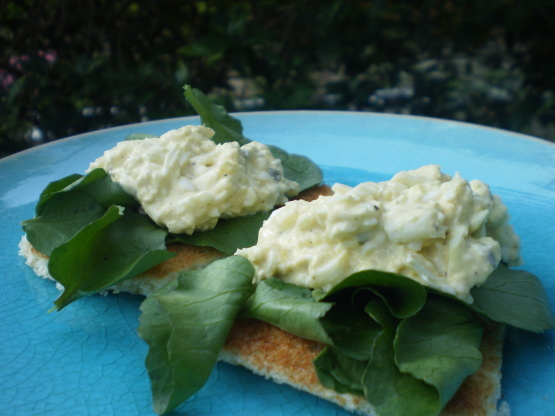 Open-Faced Egg Salad and Watercress Sandwich
5 recipe photos
Directions
PREPARE HARD-COOKED EGGS THE FOOLPROOF WAY:.
Place the eggs in a large pot. Cover with cold water. Set over medium heat and cover with a lid. When it starts to boil, remove from heat and set aside for 10 minutes. Dump the warm water, and refill the pot with cold water. Let sit for 5 minutes or so, dump and refill again with cold water.
When cool to the touch, peel off the shells and roughly chop the eggs.
PREPARE EGG SALAD:.
In a large bowl, gently combine the eggs, chives, and salt and pepper to taste.
Pour on the mayonnaise, vinegar, and mustard. Gently fold together.
PREPARE SANDWICH:.
Toast the bread. (Note: this is one sandwich in which the bread is commonly de-crusted and cut into special shapes for tea-time, or the prepared sandwich may be cut into triangles.).
Construct the sandwich. Pile the watercress on a slice of the toasted bread, and dollop the egg salad on top.
get the genius kitchen app.
Watch on your iPhone, iPad, Apple TV, Roku, or Fire TV.
Learn More