"featured on the Oprah show twice - this IS very, very good and special"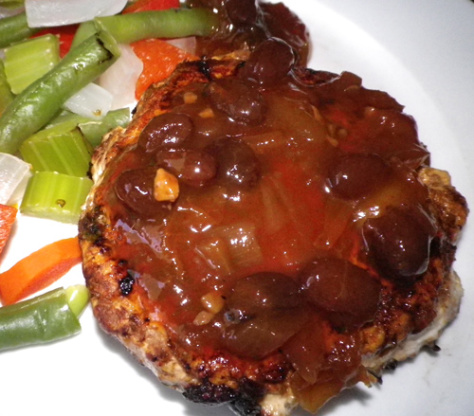 Oprah's Favorite Turkey Burger from Donald Trump's Mar-A-Lago
4 recipe photos
Directions
Saute the scallions, celery and green apples in the canola oil until tender. Let cool.
Place the ground turkey in a large mixing bowl. Add sauteed items and the pepper sauce, lemon juice and zest, parsley, chutney.
Shape into 8-8 oz burger patties, cover and refrigerate for 2 hours.
Season the turkey burgers with the salt and pepper. Place on a preheated, lightly oiled grill and grill for 7 minutes each side or until the meat is thoroughly cooked.
To make the side of pear chutney, toss peeled and diced pear with cinnamon and sea salt.
Place on a parchment-lined cookie sheet and bake at 350 for 10 minutes. Let cool.
Add pear to chutney and currants/raisins.
Serve alongside turkey burgers.
Note: this can also be made into meatballs. To make cocktail meatballs, brush or dip into pear chutney and broil quickly to glaze.
Serves 6.
Let sit 5 minutes before serving.