"The sugar bakes with the orange rind and butter to create a crispy, crunchy top - and a decadent gooey bottom on the fabulour breakfast rolls! From Electric Bread!"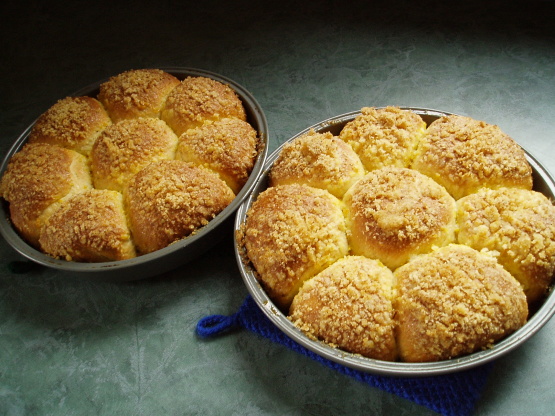 Orange Kisses (Breakfast Rolls-Bread Machine)
1 recipe photo
Directions
Remove dough from your machine after the dough or manual cycle is completed.
Turn dough out onto a lightly floured surface and form a large ball.
Divide into 16 portions.
Form into balls, and coat each ball with softened butter.
Roll in orange-sugar mixture.
Place 8 balls into a 9" pie pan.
Allow to rise until dough doubles, about one hour.
Bake at 350 degrees or until just golden brown.
Success HInts: Use only the orange portion of the orange rind.