"Delicious on buttered toast, cream cheese and bagles. Not overly sweet."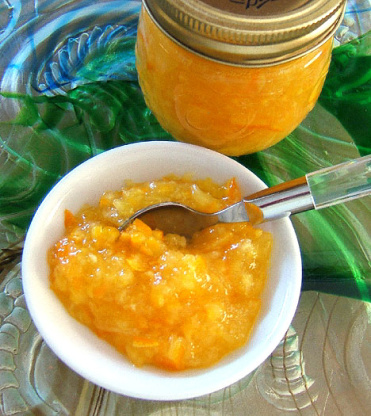 Orange-Pineapple Jam
1 recipe photo
Directions
Peel the oranges.
Put the peels in a small sauce pan. Cover with water and simmer for 20-minutes or until the peel can be pierced with a fork. Drain and rinse til cool and chop the peel.
Remove any extra thick, white pith from the peeled oranges. No need to remove it all. Cut the oranges in half, then quarters.
Slice out the white, center membrane strip and discard.
Puree the peeled oranges in a food processor.
Into a heavy saucepan, measure 2-cups orange puree, 1-cup chopped peel, 2-cups undrained, crushed pineapple, and the water or wine.
Gradually stir in the dry pectin.
Bring to a boil, add butter, and boil for one minute.
Add the sugar. Bring back to a boil and boil hard for one minute.
Ladle into seven, half-pint jelly jars, seal and process.