"This exquisite sweet fig jam has layers of flavor from the orange zest and Grand Marnier, then hints of Rosemary and a slight kick from cayenne chili's. This is a nice way to bring your roast pork, chicken over the top. Thin and use as a glaze or use as an accompaniment."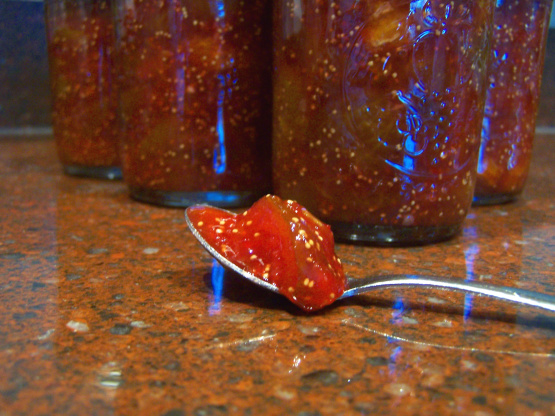 Orange Rosemary Fig Jam
3 recipe photos
Directions
Mix the 1/4 cup sugar and pectin together.
In a large, deep, nonreactive saucepan, toss all ingredients and bring to a boil, stirring until the sugar is completely dissolved. Cooking over high heat, stirring, until the fruit is soft and the liquid runs off the side of a spoon in thick, heavy drops, about 20 minutes. Remove rosemary and discard.
Spoon the jam into three 1/2-pint jars, leaving 1/4 inch of space at the top. Close the jars and let cool to room temperature. Store the jam in the refrigerator for up to 3 months.
Or.
Place in sterilized Ball jars, leaving 1/4-inch head space.
Wipe rims and adjust caps.
Process half-pints and pints 10 minutes.
in hot-water bath covering with 2 inches of water.
Turn flame off and remove lid let sit 5 minutes.
Remove jars and cool for 12-24 hours.
You can remove rings and wipe jars.
Store in a cool dark place.
Optional for those that like it smoother without chunks you can blend the figs using an immersion blender while cooking.
Altitude times.
1,000-3000 for 5 minutes.
3000-6000 for 10 minutes.
6000-8000 for 15 minutes.
8000-10,000 for 20 minutes.