"This is a candy confection made from those sugar coated orange slice candies. My sister gave me this recipe she had gotten it from a co-worker years ago. I love to make this candy along with a few others to give as a Christmas gift. I usually start making candy a few days before Christmas because it can be stored in containers . I just have to hide it! This recipe makes ALOT of candy! One batch can be enough for many, many, gift tins. My fiance's family loves it. His brother-in-law told him to keep me in the family so he can keep getting his orange candy for Christmas! LOL! *****NOTE***** This candy WILL have partially melted little chunks of the orange slice candy in it. You may want to experiment with a 'softer' brand to melt more easily as some jellied candies have a firmer texture than others. Enjoy!!"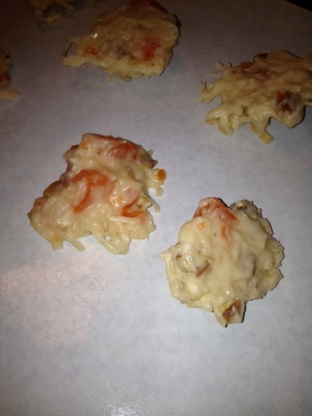 Orange Slice Candy
1 recipe photo
Directions
Preheat oven to 275 degrees.
Mix together all ingredients except for powdered sugar.
Place in a casserole dish into oven for 30 minutes.
Remove from oven and add powdered sugar, mixing well.
Drop by spoonfuls onto waxed paper to dry.
Let cool for several hours.
If candy remains sticky on bottom after cooling for a while, turn the candy over with a spatula and allow it to dry.
Store in an airtight container.
Cooking time does NOT include drying time so make this ahead of time!
Servings and yield are approximate.