"There is no braising recipe better than osso bucco with gremolata in my opinion. The wonderful flavor of the veal, the texture of the meat with the velvety thickness in a tomatoy sauce freshened and lightened with my all time favorite seasonings, garlic and lemon and tangerine zest lifting it to new heights of flavor. My recipe is a combination of the quintessential classic from time/life foods of the world and Bert Greene's gremolata in his Kitchen Bouquet cookbook Can you tell I love this? :D Just a few tips/suggestions here. 1. Don't cut the meat in half if you are single/two ppl because you need to have the effect from the full number of shanks to get the velvety jelly like consistency of the sauce. Its not jelly like when you eat it it warm but wait til you get the leftovers and you can see why the flavor is so rich and intense. Leftovers can be frozen but I'm betting that you eat it all till its gone :) Serving it to 6 ppl works but I actually prefer no more than 4. I want the leftovers. 2. Ask your butcher to cut the shanks to the thickness in the recipe, or at a minimum 1 inch. Or use extra if you can only get 1/2 inch ones. 3. Try the marrow. One of the real wonders of this dish is taking a small spoon or knife and spreading the marrow on a crostini, or just with the sauce. Its mild in flavor (i hate organ meats or weird internal things, but this is nothing like that) 4. Substitute lamb shanks but again use enough to get the consistency needed. 5. I love the flavors of the garlic, don't be afraid of the amount in the gremolata, its balanced by the lemon and tangerine as well as parsley. (which i leave out sometimes) 6. To strain or not? I love it both ways, i think the sauce is finer and the flavors burst better if strained. When i am alone i often simply leave it as is with the veggies."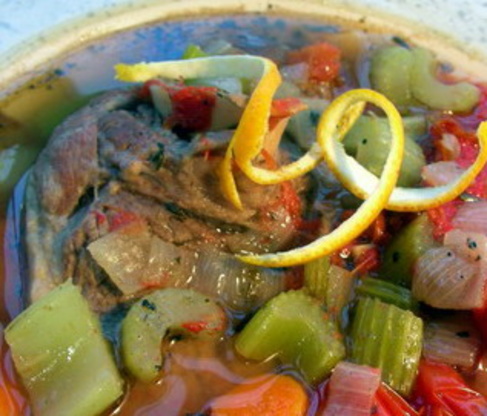 Osso Bucco (Veal Shanks) With Lemon/Tangerine Gremolata
2 recipe photos
READY IN:

2hrs 45mins

SERVES:

6

UNITS:

US
4

tablespoons butter
1 1⁄2 cups onions, minced
1⁄2 cup carrot, finely chopped
1⁄2 cup celery, finely chopped

2

garlic cloves, minced

6

lbs veal shanks, see note

salt and pepper

1⁄2 cup flour
1⁄2 cup olive oil

1

cup dry white wine

1

teaspoon fresh basil
1⁄2 teaspoon dried thyme
3⁄4

cup chicken stock

3

cups tomatoes, chopped ripe . See note

1

tablespoon sugar

gremolata

1

tablespoon lemon peel, grated
1 1⁄2 tablespoons tangerine peel, grated

1

tablespoon garlic, finely minced

3

tablespoons parsley, finely chopped
Directions
Note: shanks cut into 2 1/2 inch pieces, tied with string around the circumference.
Note: i use 3 cups drained canned tomatoes chopped but cant remember can size so put fresh. both work.
Heat oven to 350. Melt butter in a dutch oven/casserole dish or use an electric frying pan for it all. Add chopped carrots, celery and onion to butter until they are lightly colored.
In a heavy skillet heat 6 tbs olive oil. Season veal and dredge in flour then brown on ALL sides including edges. Add to casserole on top of vegetables.
Deglaze the skillet by adding the cup of wine and scraping up the browned bits. Boil till reduced to 1/2 cup. Add stock, tomatoes and herbs, bring to a boil and pour over veal. Make sure it comes at least 1/2 way up the side of the meat and add more wine or stock if needed.
Cover the pot and bake in oven for 1 1/2 hours basting occasionally until meat is fork tender.
Remove veal from casserole, and if you wish put meat in oven heated up to 450 on a plate until it browns and glazes. Or just set it aside and keep warm.
To strain the sauce press through a fine mesh sieve until all juice is back in the pot. Can be whizzed in the processor as well. Heat to boiling.
Add the lemon and tangerine peel, garlic and parsley, boil till reduced and thickened, season to taste with salt and pepper. Pour over the meat. Garnish with a few strips of zest from both fruits.
Serve with Risotto alla milanese or plain rice, and some crusty bread to put the marrow on and mop up the sauce.
If you have any leftovers enjoy, and if there is no meat but just sauce its wonderful over rice or noodles as a light supper.