"This recipe will make two large loaves, and we often make one of them into Cinnamon Raisin Bread. To do this, after the first rise knead about 1/3 cup raisins into the dough before rolling it out flat. Then after rolling it out flat, brush the dough with melted butter, then sprinkle with a heavy layer of a cinnamon-sugar mixture (1 tsp cinnamon to each Tbsp sugar) and roll up the dough into a loaf as in the recipe. I also usually grease the pan a little more heavily for a Cinnamon Raisin loaf. This bread made wonderful yet inexpensive Christmas gifts!"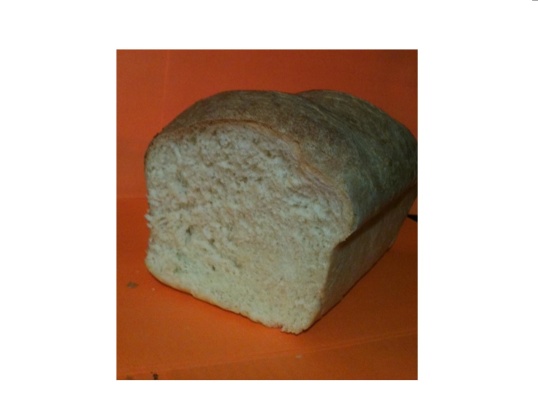 Our Favorite White Bread
1 recipe photo
Directions
Using a four-cup measuring cup, heat the milk in the microwave for approximately 2 1/2 minutes on high.
Add the honey, sugar, salt and 2 Tbsp butter and stir until the butter is melted. Using an instant-read thermometer, cool the milk mixture to between 100 and 110 degrees.
Add both yeast packages to the warm milk mixture and stir until combined. Let sit for about 10 minutes, or until yeast is foamy.
Put 5 cups of flour in the mixing bowl of a stand mixer and add the milk mixture. Beat with paddle attachment until well combined, then switch to the dough hook and add the rest of the flour. Continue to mix until combined, then once the dough has formed and pulled away from the sides of the mixer, continue to knead on a medium speed for 6-9 minutes. At this point, the dough should be smooth and supple.
Place the dough on a very lightly floured counter or board and knead by hand until you feel relaxed. Then form the dough into a smooth ball, place in a large buttered bowl, flip it over so the top of the dough is buttered, cover loosely with a non-terry kitchen towel and let rise for 2-3 hours in a warm place (I use a cold oven with the interior light turned on).
After rising, remove the dough from the bowl and divide it in half. Using your hands or a rolling pin and working with one piece at a time, roll out each half to a rectangle about 5-6 inches wide and 12-15 inches long (these are very approximate sizes). Starting at the short side of the dough, tightly roll up the dough into a small loaf. Pinch the dough at the seam, and tuck the ends under to make a neat loaf. Place seam-side down in a greased loaf pan and repeat with the second loaf (or make a Cinnamon Raisin loaf as described in the intro to the recipe).
Cover again with a kitchen towel and let loaves rise about 1 1/2 - 2 hours.
Preheat the oven to 400 degrees and place the loaves into the oven on the lowest rack. Turn the temperature down to 375 degrees and bake approximately 25 minutes. If the loaves start to get too brown, loosely lay a piece of aluminum foil over the loaves until they are done. Be sure the loaves are brown on the part that is inside the pan.
As soon as the loaves come out of the oven, brush the tops with a little soft or melted butter, then remove from the pans and cool on a rack. Be sure not to leave them in the pans or they will not have a nice firm crust.
Serve toasted and your family will never forget it!
get the genius kitchen app.
Watch on your iPhone, iPad, Apple TV, Roku, or Fire TV.
Learn More