"Close your eyes and this is pretty much the real thing! And you thought you'd never be able to eat Outback's bread again! This copy cat recipe is based off of
Outback Steakhouse Bushman Bread
and converted to a gluten free version. I recommend eating within 1 week. I used two mini loaf pans and one regular sized loaf pan only because I don't have more minis. (you can add food coloring to get the dark color too, but I figured I'd just keep it natural and close my eyes!) Nutritional Information (including flours, etc): 123 Cal, 2.3 Fat, 1 Sat Fat, 22 Carbs, 1.8g Fiber, 7g Sugar, 3g protein. (Slightly over 2 points a slice with WW)"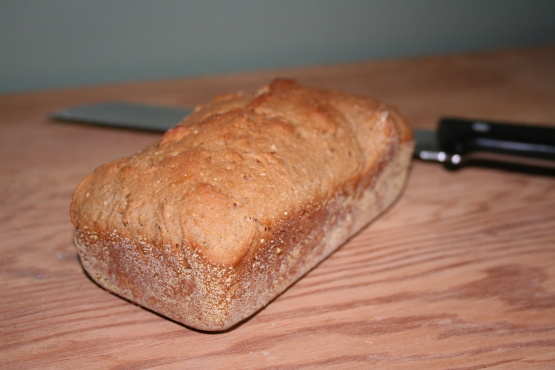 Outback Steakhouse Copycat Bread (Gluten Free)
4 recipe photos
Directions
Whisk together dry ingredients in a medium bowl.
Mix together the wet ingredients in a mixer, then slowly add the dry while leaving the mix on low. Then mix on high for 4 minutes.
Grease and flour two loaf pans (I use Crisco and sweet rice flour). Using a spatula, distribute the dough between the two pans. Loosely cover with plastic wrap and let rise in a warm moist place for 90 minutes (I put it in a slightly warmed oven with a pan of hot water underneath). Loaves should just about double in height.
Bake at 350 degrees for 20-25 minutes.