"This is my own version kourambiethes (Greek almond shortbread cookies). When I created this recipe, I was looking for a way to create kourambiethes with less sugar and less cholesterol, which I achieved by using less sugar and no egg yolk. Other changes I made to the traditional kourambiethes recipe are: use of fragrant, dry roasted almonds made into a coarse flour (rather than simply chopped) and a liberal use of ouzo and rose water to play up some accent flavors. Enjoy -- please let me know how yours turn out!"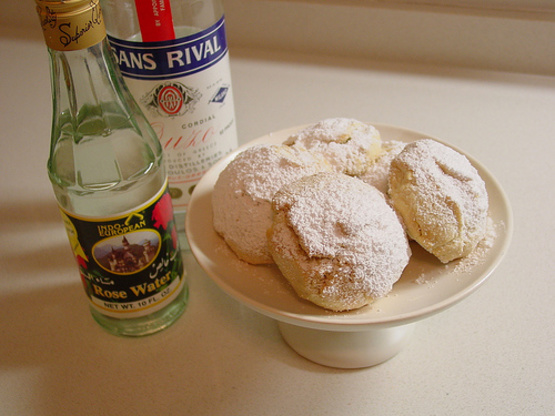 Ouzo & Rose Water Kourambiethes
1 recipe photo
Directions
Preheat oven to 350F (330F for convection ovens). Beat/whip one stick of butter in an electric mixer until fluffy.
While the butter is being whipped in the mixer, dry roast a generous half cup of slivered almonds in a pan until they come fragrant. Remove from heat. Place the toasted almond slivers into a food processor and process until they are nearly a flour. (Stop just before you reach flour consistency as the heat will cause the oils in the almond 'flour' to coalesce, which you want to avoid. A course flour is the proper point at which to to stop blending.) Place almond flour in a bowl.
Add 1/4 cup sugar to whipped butter and continue to mix. Add remaining ingredients: 2 egg whites (or 4 tsps of dry egg white + 1/4 cup water), 1 tsp baking powder, 3 tsp ouzo, 3 tsp rose water, dash of vanila extract, 2 cups flour, and almond 'flour.'.
The result should be just thick enough to handle with your hands after dashing a large spoonful of the mixture with a little flour. Form into a rough ball and flatten just slightly. (If the consistency isn't right, go back and add a little flour or water to the cookie dough if necessary to achieve desired consistency.) Repeat with each cookie, adding cookies to oiled/buttered cookie sheet. The mixture should make about 12 medium to large sized cookies.
Bake for 15 mins or until the cookies begin forming a slightly golden exterior. After removing from oven, sprinkle with a little (okay, a lot of) powdered sugar.