"With the summer on it's way and extra tomatoes from the garden now you have a recipe to make them last a little longer. Add to salads, grilled veggie sandwiches, breads, pastas, as a topping for pizzas. Be careful not to cook them, you are drying the tomatoes at a low temp. Give jars away as gifts!"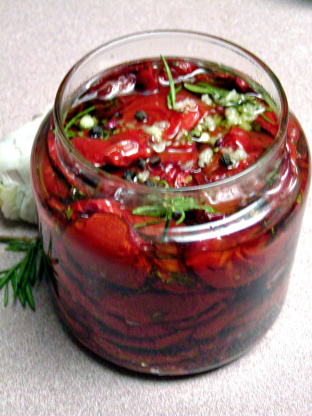 Oven-Dried Herbed Tomatoes
5 recipe photos
Directions
Trim the stem ends off of the tomatoes, quarter lengthwise and remove and discard seeds.
Place in a large bowl and add the olive oil, vinegar, parsley, rosemary, mixing well.
Season to taste with salt and pepper.
Cover bowl and allow to marinate in refrigerator for 2 to 3 hours.
Preheat oven to 200 degrees.
Pack tomatoes in a single layer on parchment paper on a baking sheet.
Bake for 6 to 12 hours.
Place them in the oven around 7:00 in the evening and bake the tomatoes throughout the night.
You'll have plump, juicy tomatoes.
Cool completely before storing.
To store: Place tomatoes, garlic, rosemary, pepper, in sterilized glass jars and pour olive oil over to cover, seal tightly with lids.
Store in the refrigerator for 2 to 3 weeks.