"This is a good way to use up extra onions/garlic and store them for future uses. Be sure to store in cool, dry places at room temperature in AIRTIGHT containers out of sunlight. With no moisture to be allowed to enter the container...ever ever. FYI-Temperatures too high will result in the onions being cooked instead of dried and when overdried will lose its flavor and nutritive value. Onions/garlic that are underdried will spoil so be sure they are crisp when removed. 1 small clove = 1/8 teaspoon garlic powder 1/2 teaspoon dried garlic slices. 1 small or 1/4 cup chopped,fresh onion = 1 tablespoon dried onion."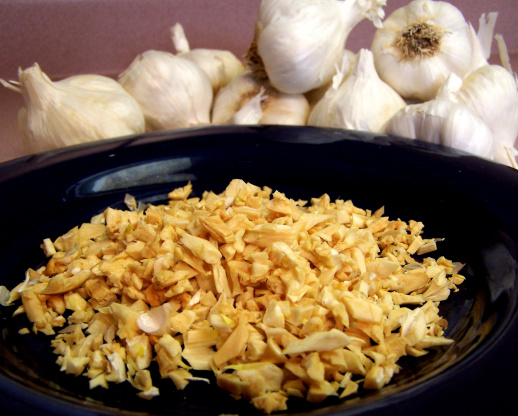 Oven Dried Onion / Garlic Flakes
4 recipe photos
READY IN:

8hrs 15mins

SERVES:

40-80

UNITS:

US
10

onions (Remove root, top, and skins-sliced 1/4 thick 1/8-inch rings or chop)

10

shallots (Remove root, top, and skins-sliced 1/4 thick 1/8-inch rings or chop)

10

bulbs of garlic (Remove root, top, and skins-sliced 1/8 thick or chop)
Directions
Preheat the oven to 140 degrees Fahrenheit (71 degrees Celsius), and then add the loaded trays. Prop the door open at least 4 inches.
Dry onions/garlic in single layers on trays. Depending of drying conditions, drying times make take longer.
Place on trays that are at least 1 1/2 inches narrower than the inside of the oven to allow for air circulation.
Allow at least 2 1/2 inches between trays and 3 inches of free space at the top of the oven. Be sure there is lots of air space between the pieces of onions/garlic and placed in a single layers.
Optional but good to do. Place a fan outside the oven in such a position that air is directed through the opening and across the oven.
Change the position of the fan frequently during drying to vary the circulation of the air.
Maintain the temperature at 140 degrees Fahrenheit (60 degrees Celsius). It takes less heat to keep the temperature at 140 degrees Fahrenheit as drying progresses, so watch the temperature carefully at the end of the drying. Check the onions/garlic often, and turn the trays frequently. At the start of the drying process, there is worry of scorching, but when nearly dry, the product may scorch very easily. Even slight scorching destroys the flavor and may lower the nutritive value, so be careful not to allow the temperature to rise above 140 degrees Fahrenheit, especially during the end of drying.
The onions will be brittle when dry and will crumble when crushed.
This should take between 6 and 10 hours.
get the genius kitchen app.
Watch on your iPhone, iPad, Apple TV, Roku, or Fire TV.
Learn More