"From the August 2009 Costco Connection and directions copy/paste for ease from http://www.keyingredient.com/recipes/205812/oven-pork-roast-with-applesauce-baby-potatoes-gravy-and-asparagus/ (I double-checked the directions & corrected) This one does require work the night before, but it isn't difficult, and it is a piece of cake the next day - just stick it in the oven. The 4-6 servings assumes 1/3 of the roast is left over."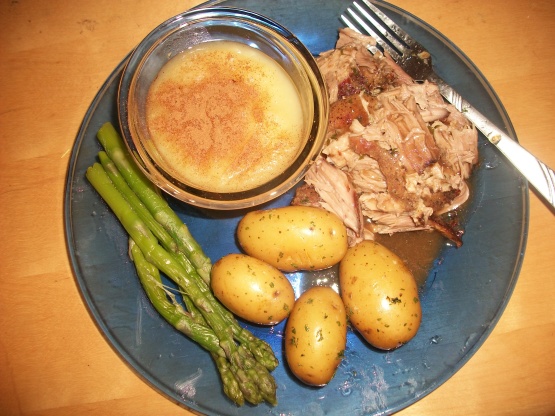 Oven Pork Roast With Applesauce, Baby Potatoes, Gravy and Aspara
2 recipe photos
READY IN:

12hrs 25mins

SERVES:

4

UNITS:

Metric
Directions
The night before … Take out equipment.
1. Place roast on a plate. Sprinkle with pepper, garlic powder and no-salt seasoning. Cover and let stand in refrigerator overnight.
In the morning …
2. Preheat oven to 450°F Transfer roast to a shallow roasting pan. Place in preheated oven, uncovered. Set timer for 20 minutes. When timer rings, don't open the oven! Reduce heat to 170°F That's it! Leave the roast in for up to 10 hours.
When you get home …
3. Wash potatoes and place in a large stovetop pot of cold water. Bring to a full boil, then reduce heat to a low boil until you can easily pierce the potatoes with a knife. Drain potato water into a large measuring cup and set aside. Add butter and rosemary to potatoes and swish to coat. Cover to keep warm.
When the roast is ready to come out (it should have an internal temperature of 160 F) .,.
4. Transfer roast to plate. Wrap in foil to rest. Combine gravy mix and water in a cup, then whisk into roasting pan. Slowly whisk in potato water. Bring to a boil over high heat, stirring continuously. Reduce heat to simmer. Keep roast wrapped in foil, but drain juices from plate into roasting pan.
5. Snap off bottom nodes of asparagus and discard. Rinse spears in colander or steamer basket. Place a small amount of water in the bottom of a stove-top pot and bring to a full boil with the asparagus in the basket above. Cover and set timer for 4 minutes, or microwave in a non-metal pan for the same amount of time.
When the timer rings for asparagus …
Drain water. Toss asparagus in pot with butter and salt.
6. Combine applesauce and cinnamon in a small serving bowl to serve with pork roast.