"Updated and corrected recipe! I watched Mom make the rolls for Christmas dinner this year, and have updated the recipe to make sure all the amounts and steps are just right. :) Mom originally got the recipe from Aunt Lee, and these are my favorite dinner rolls. They take a bit of time to prepare, but they're well-worth it. I know it's a lot easier to buy rolls from the Pillsbury Doughboy, but they're not nearly as good. :) This is what's on the table at our family gatherings. Prep time includes day-of-baking rising."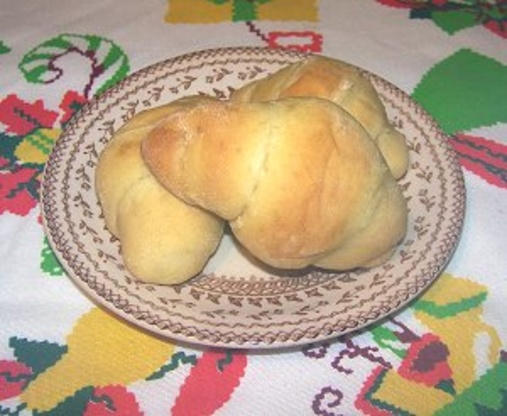 Overnight Fluffy Rolls
2 recipe photos
Directions
Dissolve the sugar then the yeast in the warm water; let "proof" for about 10 minutes - it should swell and get bubbly.
In a large bowl, beat together the eggs and sugar until light. Mix in the oil, milk, and proofed yeast until well blended.
In a separate bowl, mix together the dry ingredients. Add mixture to the wet ingredients and mix until dough is smooth and elastic (it will be fairly sticky).
Pour dough into large oiled bowl and let rise for 4 hours or overnight in refrigerator.
Spray baking sheets with baking spray or lightly butter.
Pour onto floured board, divide the dough in half.
Roll out each half as you would for a pie crust (make sure to dust the roller with flour), then cut the dough into 12 pie-piece shaped pieces. Roll each piece into a crescent shape or shape rolls however you wish.
Place shaped rolls on the baking sheets, then put in a warm place to rise, about 2 to 3 hours.
When ready to bake, preheat oven to 350 degrees F. Bake for 10 to 12 minutes until golden.