"From www.TopSecretRecipes.com This is a Todd Wilbur recipe from "Top Secret Recipes." He says it is an appetizer on the menu but I used it as my main course when I made it.I have never been to a P.F. Chang's and I have never ordered spare ribs at an asian restaurant but maybe I will next time just to compare. I was pleased with the taste and the texture. I am sure I got more for my buck too:) Enjoy!!"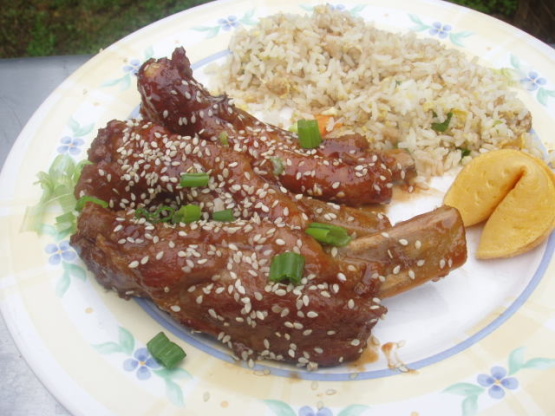 P.f. Chang's® Chang's Spare Ribs by Todd Wilbur
2 recipe photos
Directions
Make the sauce by combining ingredients in a medium saucepan over medium heat.
Bring mixture to a boil, then reduce heat and simmer for 5 minutes,until thick.
Cool.
Heat up 12 to 16 cups of water in a large saucepan or dutch oven. Add a couple teaspoons of salt to the water.
As water boils, trim the excess fat and meat off and slice between the bones of each rib to seperate.
When the water is boiling,toss the ribs in, and boil the ribs for 12 to 14 minutes.
No pink should show when they are done.
Remove ribs to a plate to cool.
Heating 4 cups of vegetable oil in a large saucepan over medium heat.
The oil should be about 375°.
When the oil is hot, drop 4-6 ribs in at a time.
Fry for 2 to 4 minutes or until meat browns.
Drain off the ribs on a rack or paper towels.
Fry all the ribs refore moving on to the next step.
Heat wok or large skillet over medium heat.
When the pan is hot, toss in all the ribs to coat with the sauce.
Simmer the ribs in the sauce for the about a minute while stirring and dump.
the ribs onto a serving plate when they are all coated with sauce.
Sprinkle the ribs with sesame seeds and about a tablespoon of diced green onion.
Serve with a pile of napkins.:).
get the genius kitchen app.
Watch on your iPhone, iPad, Apple TV, Roku, or Fire TV.
Learn More